Hiking in the snow means discovering the mountains in all their splendour covered in a beautiful white coat. It's the joy of sinking into the powder and admiring the falling snow! But it's also about rougher conditions that require winter hiking clothes and equipment adapted to these particular conditions.
Find out now all the gear you need for winter hiking 🙂
Quick navigation :
Winter hiking equipment: clothing
In winter, it is essential to maintain a constant body temperature while hiking.
That's why clothing is so important when choosing winter hiking equipment. It must be possible to remove or put on layers of clothing quickly and easily, depending on the activity and the outside temperature.
The three-layer hiking technique:
a breathable first layer that allows perspiration to pass through (e.g. a synthetic fibre or merino wool t-shirt)
a second insulating layer to keep you warm (fleece, micro-fleece, softshell, etc.)
a third layer that is windproof and waterproof to protect you from the elements (Gore-Tex jackets or equivalent).
Of course, depending on the conditions, the layers can be doubled (with a down jacket, for example) or modulated.
Winter hiking clothes for the upper body
For the top, long sleeves with one or two thin layers close to the body are obviously preferable, followed by a fleece and finally a windproof waterproof jacket.
As a first layer, we advise you to choose underwear and a garment made of merino wool that will allow your body to retain heat while allowing it to breathe. Moreover, merino wool is antibacterial. You will thus say goodbye to bad odours!
For the second, you can opt for a fleece or a soft-shell jacket. Light, warm, windproof and water-repellent, soft-shell is very versatile.
As a third layer, choose a well waterproofed, light, hooded Gore-Tex jacket rather than a ski jacket. The latter may be warm but it is heavy (especially when wet!) and not very flexible. It is the waterproofing and breathability of the membrane that are important for this layer, not the insulation.
For the lower body
For the lower body, you have three options.
The first one is a classic hiking pant. These will suffice if the temperature is not too low and the snow height is not too high. If you are afraid of being too cold, you can put on tights underneath to keep your legs warm.
The second option is hiking pants with a fleece lining. Much warmer than summer hiking pants, you'll stay warm even if the temperatures outside are very low.
Finally, you can also opt for a pair of summer or winter hiking pants on which you put on a waterproof overtrouser. This one will not particularly allow you to be warmer (it is the trousers which will play this role) but it will ensure you to remain dry!
What clothes to wear to keep your feet dry when hiking?
For a winter hike, pack waterproof hiking boots and warm, comfortable socks. Having frozen feet is really the last thing you want to experience when hiking in winter.
Also put on gaiters that will cover your calves and ankles. Major pieces of winter hiking equipment, they will prevent snow from seeping into your shoes as you walk and thus keep your feet dry 🙂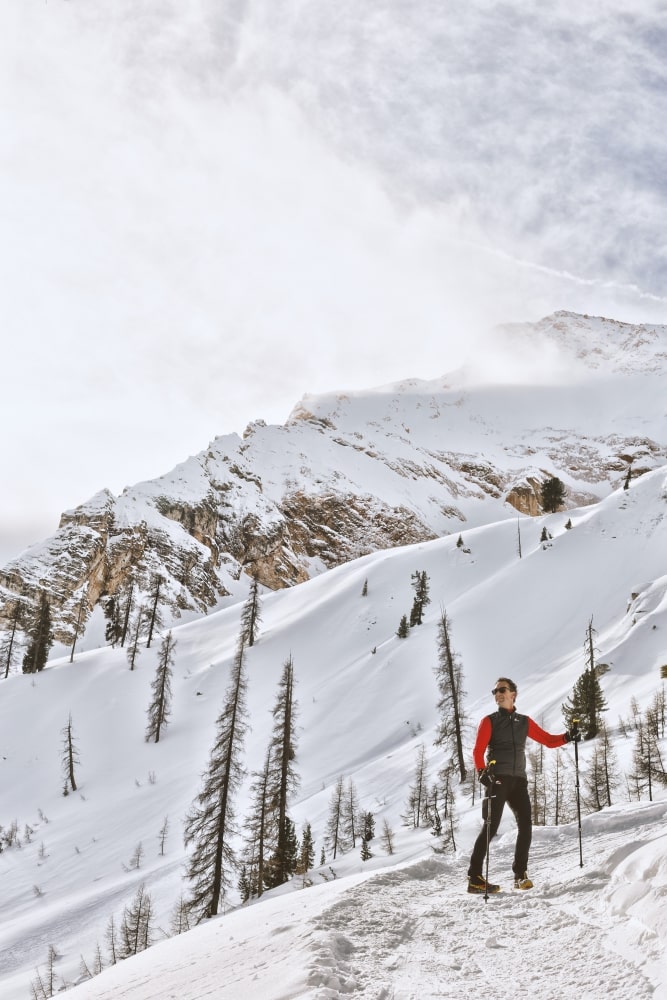 Keep your head warm!
A hat, earflap or buff will keep you warm. The most important thing is to keep your head warm as it is one of the main sources of body heat loss.
Remember to take appropriate sunglasses as well. When hiking in winter, the sun on the snow can burn your eyes and even cause snow ophthalmia!
For hiking in the snow, we recommend goggles with a level 4 protection factor, especially if you have light eyes. Beware, it is forbidden and dangerous to drive in a car with them!
For the hands
For your hands, the silk gloves and mittens combo is the best. The former will allow you to easily handle a camera or open your hiking backpack. The latter will keep your fingers warm and dry.
You've got it: when hiking in winter, you protect every part of your body!
What winter hiking gear for a day trip?
More than just warm clothing, winter hiking requires specific equipment to ensure safety.
The avalanche safety kit
Whenever you go hiking outside the resort, you should always be equipped with an avalanche safety kit consisting of an arva, a probe and a shovel. This equipment should always be on hand in case of a problem. This part of your winter hiking equipment is essential to ensure your safety.
Snowshoes, the winter hiking equipment that keeps you going
Hiking with snowshoes is to be able to walk everywhere without sinking into the snow. When used properly, they can considerably reduce your effort. They are literally indispensable for hiking in winter when there is snow!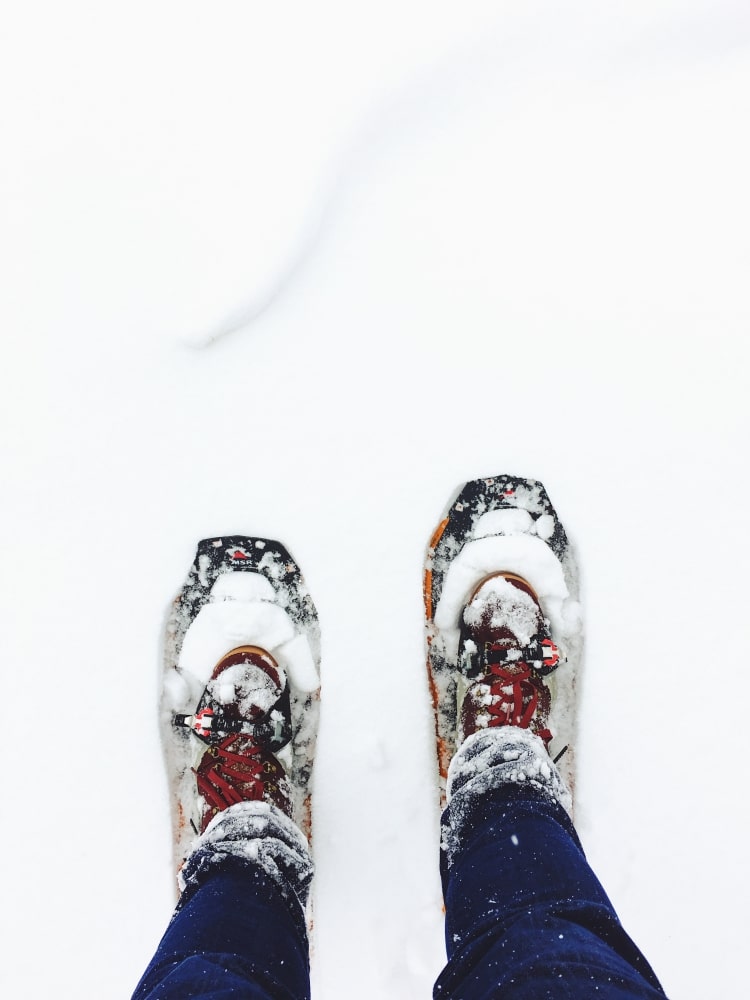 Hiking poles
If poles are useful in summer, they are imperative in winter! Equipped with a snow washer, they will allow you to keep your balance even in deep snow and will greatly facilitate your progress in the powder.
Removable crampons for ice
If you have to evolve on icy surfaces and especially if the slope is steep, wearing crampons will be imperative to avoid any accident. They will help you to cross some of the more perilous passages in complete safety.
There are three types:
Strap-on cleats
Semi-automatic spikes
Automatic spikes
Your choice will depend mainly on your hiking boots and the type of winter outing you wish to undertake. However, for hikes that do not present any major difficulty, strap crampons are more than sufficient. Light and versatile (they fit on all mountain boots), we advise you to put them at the bottom of your bag, just in case!
Headlamp for short days in the mountains
In winter in the mountains, the sun sets very quickly. A headlamp will allow you to walk serenely even if the luminosity decreases to return calmly to your home or to your car.
Winter hiking gear to stay warm no matter what
It may seem obvious, but hiking in winter can be very cold. Bringing small heaters, a good warm thermos and a survival blanket will help you to overcome the negative temperatures.
Hiking equipment to find your way in the mountains
In winter, the markers are buried under the snow, the trails are invisible and you can quickly get lost. A solution to orient yourself will prevent you from losing your way. To find your way in the mountains, there are several options available to you:
A hiking GPS
Or the classic TOP25 map and a compass
Winter hiking gear for several days trekking
Because yes, you can make a bivouac in the mountains, even in the middle of winter! The most daring hikers brave the cold to enjoy the magnificent landscapes, but not without equipment!
A 4 seasons tent
It is impossible to do without a 4 season tent if you want to bivouac in winter. The conditions are much harsher than the rest of the year.
It must be able to withstand the weight of the snow that may fall during the night. It must protect you sufficiently from the cold and also remain well anchored in the ground. Here, sardines will not be enough and you will have to equip yourself withsnow anchors or find dead weights on the spot.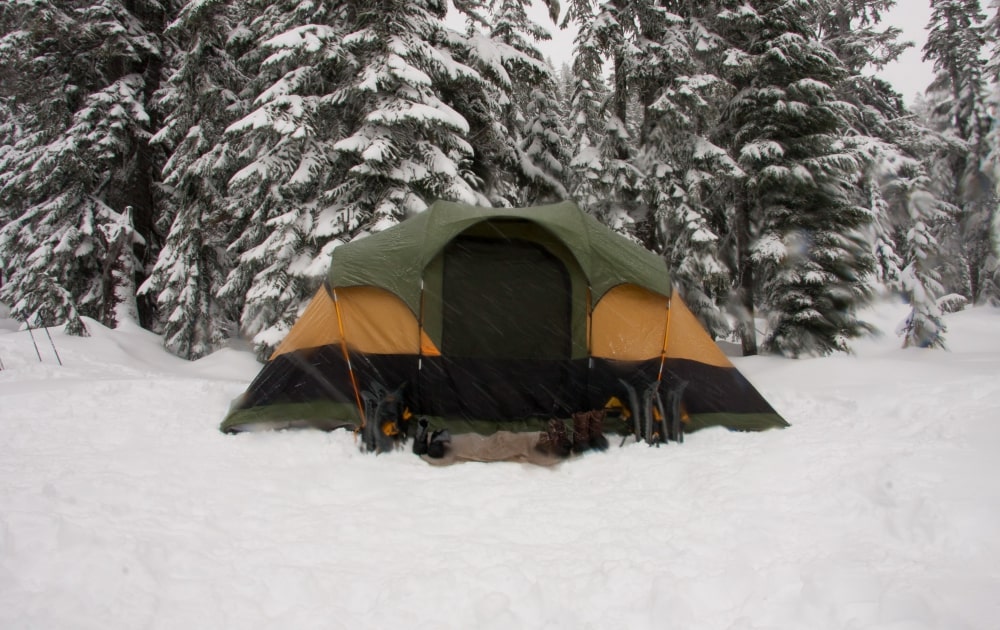 The insulating mattress
No, we are not thinking about your comfort but rather about insulating you as much as possible from the cold ground at night. Make sure you choose a bivouac mattress with a good insulation coefficient.
The sleeping bag for a winter bivouac
A cold duvet adapted to sub-zero temperatures is a must! Without it, it is impossible to sleep in a bivouac in winter. A comfort temperature of -10°C is a minimum requirement. Don't skimp on this part of your winter hiking equipment as it will allow you to sleep without freezing!
Taking a meat bag will also give you an extra layer. Like a sheet, it will give you more comfort and hygiene. It will also prevent you from dirtying your sleeping bag.
And if you sleep in a refuge, you will not be in direct contact with the blankets in which many hikers have slept before.
The gas or petrol stove
Drinking a hot soup, making food, melting ice: You will see your little gas or petrol stove as the grail in winter hiking.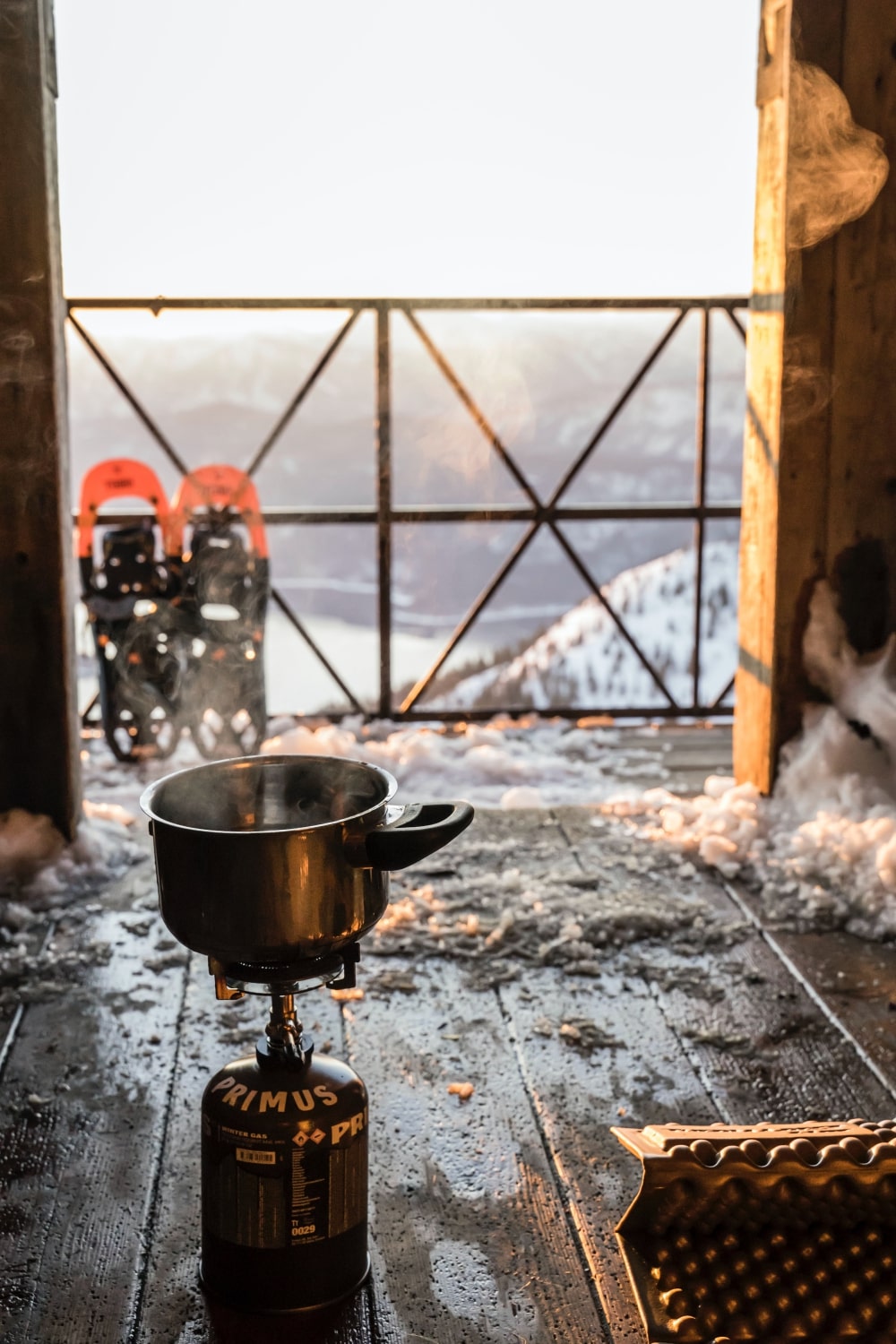 Now you have a list of all the equipment you need for winter hiking.
We hope to have given you the desire to put your shoes or snowshoes back on soon to enjoy the joys of the mountains in winter.
You see even further and have a desire for the great outdoors and trekking? Don't hesitate to consult our complete list of equipment for trekking!