This article is the continuation of the first part of our Tour du Mont Blanc gear list. If you are wondering about the basic hiking gear, the one you need to be able to hydrate, orient yourself and protect yourself from the sun on the Tour du Mont Blanc, all the answers to your questions are here!
In this second and last part, we want to inform you about the clothing needed to do the TMB. The clothing you wear must be suitable for the multi-day mountain walk and the weather conditions you may experience. Without the right clothes, you are at the mercy of the cold, wind, rain and sun. Without the right footwear, you could even get injured.
In this article, we also advise you on the necessary equipment for a Tour du Mont Blanc to achieve this beautiful trek in autonomy.
Finally, we offer you the list of small things to bring for a good hygiene during your stay in the Mont Blanc country.
What to wear for the Tour du Mont Blanc?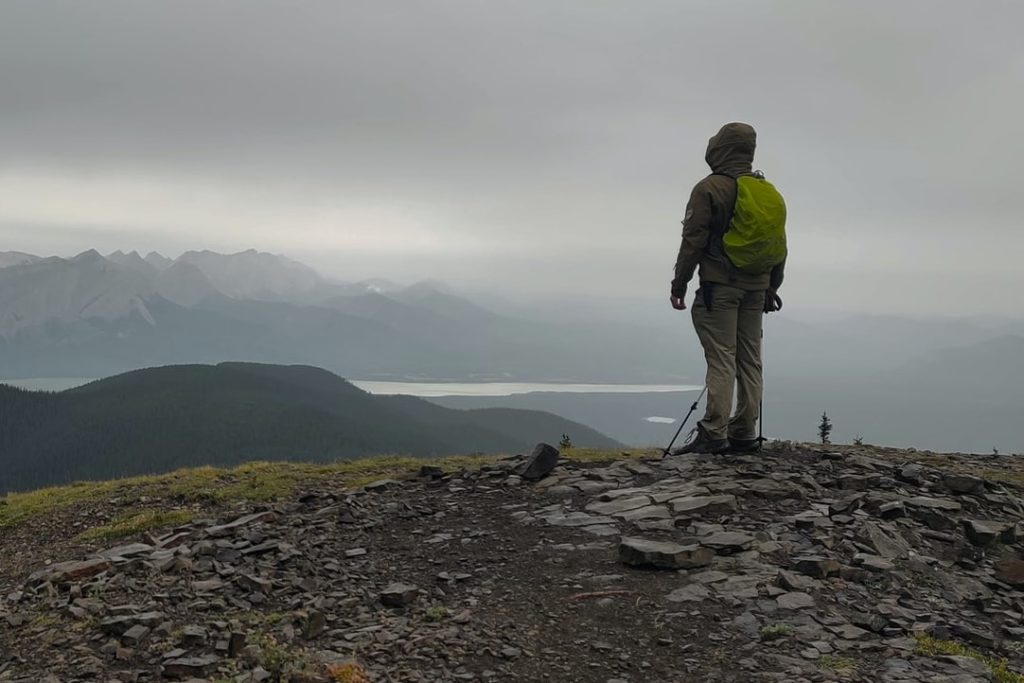 From head to toe, it is important to have clothes adapted to the practice of hiking for several days for a trouble-free Tour du Mont Blanc. For the top, adopt the principle of three layers to be prepared for any eventuality:
a first layer that wicks away perspiration.
a second layer of insulating and warm clothing.
a third layer that protects against wind and rain.
Breathable T-shirts
On the Tour du Mont Blanc, it is better to walk with a breathable sports shirt adapted to hiking (with reinforcements at the shoulders, against wear and tear from the bag) rather than a cotton shirt that does not wick away perspiration.
We advise you to bring enough
A breathable, sweat-wicking t-shirt will keep you dry on the TMB trails. Take enough of them with you and make sure they are suitable for trekking and hiking (reinforced shoulders to avoid wear and tear from rubbing against the bag, sufficient ventilation, anti-UV, etc.).
A fleece
In your list of equipment for the Tour du Mont Blanc, a fleece is essential. It can be useful in the morning, evening or all day depending on the weather. It is important to have warm and insulating clothing on the Tour du Mont Blanc (and on a hike, in general) to keep you warm.
A fleece is perfect for this as it retains heat very well, is light, takes up little space and dries quickly. The weather changes quickly in the mountains and you get cold very quickly when you take a break. So don't forget a good warm garment for a smooth TMB!
A waterproof jacket
As a third layer, pack a waterproof and windproof Gore-Tex jacket. Rain can come quickly on your trip, even temporarily, and the last thing you want is to get soaked!
The jacket can also be used as a windbreaker even when the weather is fine, to keep you from getting cold.
Choose a jacket that is sufficiently waterproof (a two- or three-layer jacket that is resistant to 10,000 mm of water will be a good piece of clothing) and the right size to put over a fleece and not restrict your movement when walking.
Another solution for staying dry when it rains is a poncho. It will cover both you and your pack but a poncho is often less waterproof than a hiking jacket. Not ideal if it rains all day, then.
A pair of hiking pants
To have an enjoyable Tour du Mont Blan, it is best to walk in suitable trekking pants. Trekking trousers are made of elastic, resistant and sometimes water-repellent materials, adapted to mountain walking. They will allow you to avoid abrasions, will not hinder your movements and will avoid unpleasant rubbing!
On a trek like the Tour du Mont Blanc, we advise you to choose modular hiking pants. The lower part of the trousers can be unzipped and turned into shorts. On the TMB, it can be cold during the first hours of walking but the temperature can quickly rise as the morning and afternoon progress.
Hiking shoes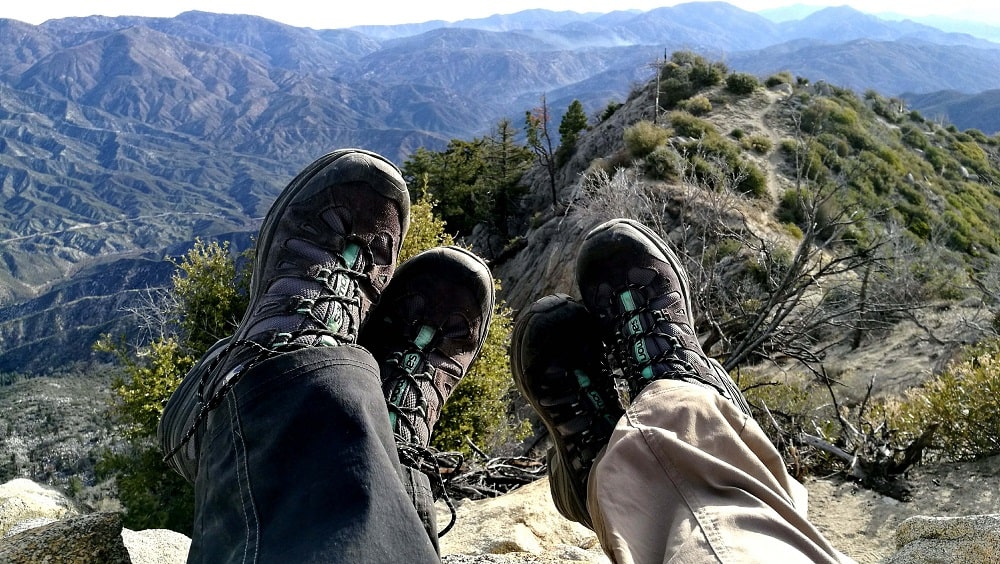 A good pair of hiking boots is the most important part of your Tour du Mont Blanc gear list. Without proper footwear, your feet will suffer and you are at great risk of injury!
The trails of the TMB are varied, so we recommend that you choose hiking boots that cover the ankle well to avoid sprains. Your shoes should also be waterproof.
Also pay attention to the sole of your shoes. A good cushioning will avoid back and joint pain at the end of the day. Also, well-cramponed soles will ensure you don't slip!
Hiking socks
Without hiking socks adapted to walking for several days, you run the risk of blisters appearing on your feet! So choose the right socks for your Tour du Mont Blanc.
In specialist shops and on online sales sites, you will find the model that meets your requirements and your budget. Here are some examples that we can recommend:
Hiking socks made of merino wool, an anti-bacterial material that prevents the formation of bad odours.
Lateralized socks (one left and one right) to avoid friction, ideal for feet sensitive to blisters.
Two-layer socks to prevent chafing and keep your feet warm.
A down jacket
A down jacket or warm clothing is very useful at the end of a day of walking, when you have sweated a lot and your clothes are wet. To avoid getting sick (especially when your body is tired from the day), put on a dry fleece or better yet, a down jacket.
There are down jackets with a natural filling (down) and others with a synthetic filling. The former are warmer and less bulky, but also more difficult to maintain and more expensive than the latter.
To evaluate the warmth of a down jacket, check its characteristics and look at the "cuin". In short, this is the heat retention index of the down jacket and the higher it is, the warmer the down jacket will be. For a trek like the Tour du Mont Blanc, a 700 cuin down jacket will already be a very good garment. The "comfort" piece of your Tour du Mont Blanc gear list!
A buff, a hat or a cap
Protecting your head is important during a trek like the TMB to keep your head safe from rain, cold or sun. For this, a buff is best as it can be used for many purposes and can also be worn as a neck warmer.
A waterproof hiking hat is also a perfect headgear for trekking as it covers the neck well and protects from rain in case of a downpour.
You can also take a cap and/or a beanie.
Gloves
In the morning, it is cold on the Tour du Mont Blanc and it is important to protect the extremities of your body from the cold. For your hands, remember to take thin and warm gloves.
If you are doing the TMB on glacier routes, remember to take thick enough gloves to avoid nasty injuries in case of a fall or slip!
List of equipment to do the Tour du Mont Blanc in autonomy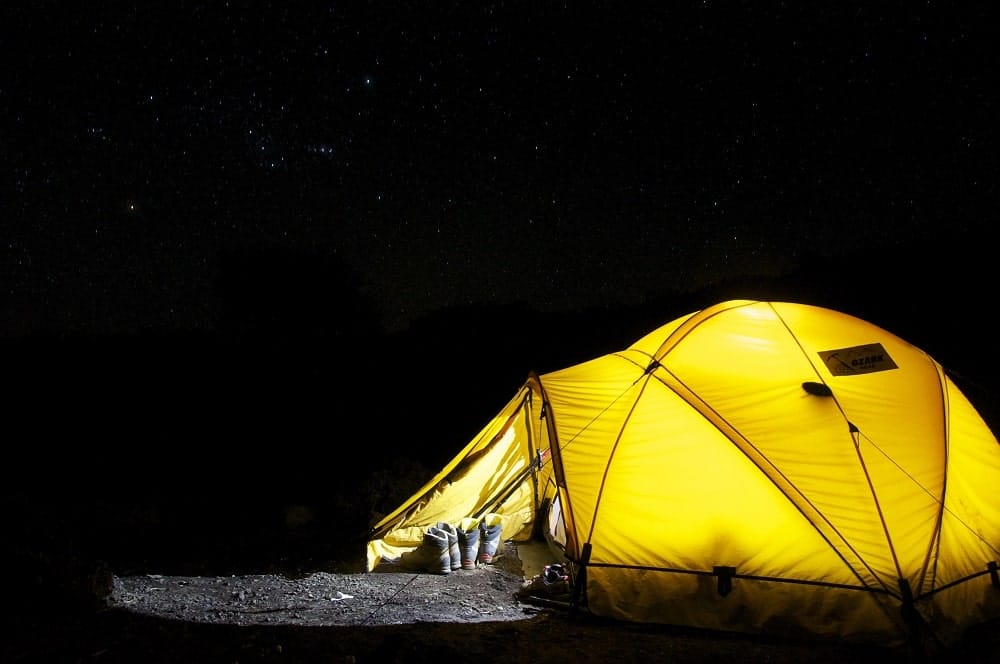 If you plan to do the Tour du Mont Blanc on your own, you will need more gear than if you do it sleeping in the refuges. For a comfortable bivouac trek, here are the essential pieces of a gear list for the Tour du Mont Blanc in freedom!
A tent or tarp
In a list of equipment for the Tour du Mont Blanc in autonomy, you will obviously need a shelter. A light, compact and waterproof bivouac tent will be perfect.
Before choosing, compare prices, weights, sizes and finishes (seams, storage pockets, etc).
If you want to walk with a very light equipment, you can choose to sleep in a tarp, more rudimentary but less heavy than a tent.
A sleeping bag
A sleeping bag that is warm enough is essential for the Tour du Mont Blanc in freedom. Even in summer, the nights can be cold on the route and we therefore advise you to choose a sleeping bag with a comfort temperature of 0°C.
A bivouac mattress
To avoid sleeping almost on the ground and avoid back pain, include a sleeping mat or a floor mat in your list of equipment for the Tour du Mont Blanc. There are many models available, varying in weight, comfort and price. Some examples:
Foam mattresses are the cheapest and are very light but provide little insulation from the ground
Self-inflating mattresses are more comfortable and more insulating but they are among the heaviest and take up a bit more space.
Inflatable mattresses take up very little space, fit in your bag and are the most comfortable. However, they are a little more expensive and more fragile than the previous ones.
A stove and fuel
To make a trek in autonomy, you need to be able to prepare food for yourself. For this, a stove is imperative, unless you take cold meals at the beginning of each day.
We advise you to bring a small stove so as not to overload your pack. A gas stove and a canister will do perfectly well for a TMB. An alcohol stove will also be a good tool as it will take up less space and weigh less.
> More tips on hiking stoves here.
A popotte
For cooking and eating, take along a suitable size cooking pot, depending on the number of people in your group. Also remember to bring enough cutlery and bowls!
Hygiene while trekking
Often neglected in order to lighten the bag, hygiene is important during a trek because it's the little things you do that can prevent you from getting infected or sick. Here are some things to take in your bag to stay clean on the TMB.
A hydro-alcoholic gel
During a trek, you touch many things with your hands that are not clean and this is one of the main causes of infection. It is therefore important to try to keep them clean to avoid health problems.
To do this, carry a bottle of hydro-alcoholic gel in your bag. It's small and light, so you can keep your hands clean without using water, and what's more… it's a great fire starter!
Toothbrush and toothpaste
Dental hygiene is important and the last thing you want to have on the Tour du Mont Blanc is a toothache! So remember to take your toothbrush and toothpaste before you leave.
In order not to leave any trace of your passage on the TMB trails, you will find dry toothpastes and bio-degradable toothpastes in specialized stores or in pharmacies.
A microfiber towel
To dry yourself after a shower in a refuge or after your toilet, take a small microfiber towel. It is light and doesn't take up much space, and dries very quickly.
If you want to make a washcloth, you can cut two squares of microfiber towel and sew them together. You can find microfiber towels at very reasonable prices in any sports store.
Marseille soap
Marseille soap is perfect for trekking because it has many uses. So it has its place in a list of equipment for the Tour du Mont Blanc!
Marseille soap allows to :
wash face and body
shampoo hair
clean a wound
wash the dirty laundry
do the dishes
To stay clean, slip a small piece of soap into a waterproof pocket before setting off on your adventure!
---
We hope this article has helped you create your Tour du Mont Blanc gear list! If you have any questions, ideas or feedback, leave us a comment just below 🙂