The Tour du Mont-Blanc with your family: you dream about it, but you don't dare to take the plunge?
It's true, organizing a trek with children can be scary. Will your child be able to follow the rhythm? Will the trip turn into a nightmare when the little one refuses to take another step?
After these few legitimate reservations, you will quickly discover that hiking is a very complete exercise.
In addition to its physical benefits, this practice will make the youngest aware of the interest of preserving the alpine landscapes, its fauna and flora. It's also a great opportunity for them to disconnect from their screens (and you with them) and to spend some time with them in a spirit of complicity and transmission.
So, with an organization adapted to the children's capacities and some good practical advice, you will learn that nothing is impossible with your family!
Thanks to these 5 tips to consider before going to the mountains, you will become the best guide for your children!
Tour du Mont Blanc with children : what is the minimum age?
While it is perfectly possible (and even beneficial) to hike in the mountains with your child from a very young age, considering a trek around Mont Blanc with a toddler or young child is risky, if not inadvisable.
Indeed, the exercise of trekking in the mountains requires a certain endurance, the physical effort extending over several days. It is estimated thata child will be able to do this around the age of 10, at which time he or she will have almost reached the same walking ability as an adult.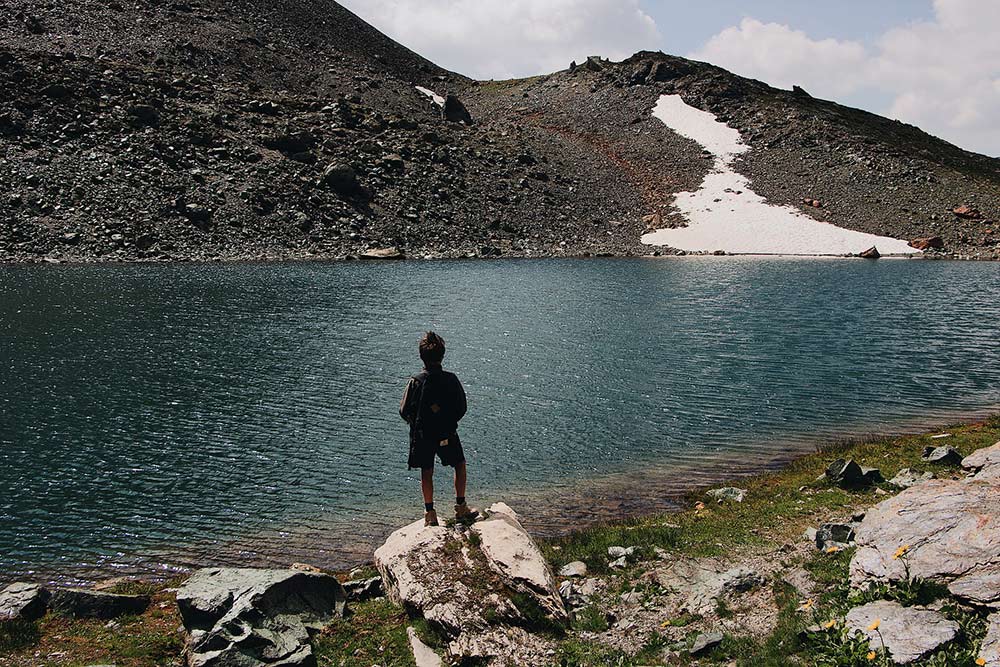 Obviously, this estimate depends on how used to hiking your child is. Thus, an 8 year old child who is used to walking in the mountains will certainly be more at ease than a 10 year old child with no experience, you be the judge! Don't overestimate your child, as this could put them in difficulty and put them off walking…
You should also know that before the age of 15, it is strongly advised not to climb above 2500 meters of altitude, especially because of the lack of oxygen leading to "acute mountain sickness".
In short, before embarking on an experience like the Tour du Mont-Blanc with your children, test their endurance and avoid stages that are too technical or at too high an altitude.
Adapting the trekking program to the children's abilities
Is your child finally ready to follow you valiantly on the alpine trails? Well done, that's already a big step!
However, even if the Tour du Mont-Blanc is a trek accessible to most adults, it is still a fairly high level hike. You should therefore consider adapting your pace and programme to the youngest of your walkers.
Thus, it is essential tostudy beforehand the circuit you plan to follow: are the differences in level too great? Are the paths too steep or along cliffs? The answers to these questions will already define a good part of your route by eliminating certain sections.
The time and pace of walking are also factors to be taken into account. A child will certainly be slower and require more breaks than an adult. Therefore, think about planning rest periods and shorter walking distances to avoid a difficult end of the day.
For an adult, it is estimated that it takes 10 days to do the full Tour du Mont-Blanc.
If you are a family, consider a shorter 4-day or 7-day Tour du Mont Blanc with a guide or on your own. To make your trek easier, you will also find shuttles to transfer you between the different places of the Mont-Blanc.
You will be able to enjoy a less difficult family trek, which will offer you and your children beautiful moments of walking, without missing breathtaking landscapes.
Provide adequate and quality equipment for both children and adults
Children grow up fast, it's true!
However, it is necessary to invest in solid and comfortable equipment and not to overload it in order to offer it the best possible hiking conditions.
Young hikers should not have to carry more than 10 to 15% of their weight, otherwise their growing backs could suffer… So think about equipping yourself with a slightly larger bag to be able to carry your children's things.
For the equipment :
The choice of footwear is the main element. Therefore, favour hiking boots that are high, hold the ankle well, are perfectly waterproof and have a notched sole that grips well. Of course, it is always advisable to wear them beforehand to fit their little owner's feet.
On sunny days, bring a hat, sunglasses and sunscreen to protect their fragile eyes and skin.
For bad weather, equip your child with the most waterproof windproof jacket possible, such as a Goretex jacket. When buying a jacket, pay close attention to the Schmerber index indicated in millimetres: the higher the index, the more waterproof the jacket (at least 10,000 mm for a good result).
On the other hand, avoid giving walking sticks to your children. Most of the time they don't use them and get their feet stuck in them, which can even be dangerous when going downhill…
As you will have understood, hiking with a child also means carrying extra equipment for the adults. If you want to take some of this load off your shoulders, there are luggage transfer services between your accommodation.
This way, young and old alike can enjoy the ride without being overloaded!
Organize your hiking days for your children
Your child likes hiking, that's a good point. However, this does not prevent him from remaining a child and an activity such as walking may seem monotonous, even unpleasant in the long run.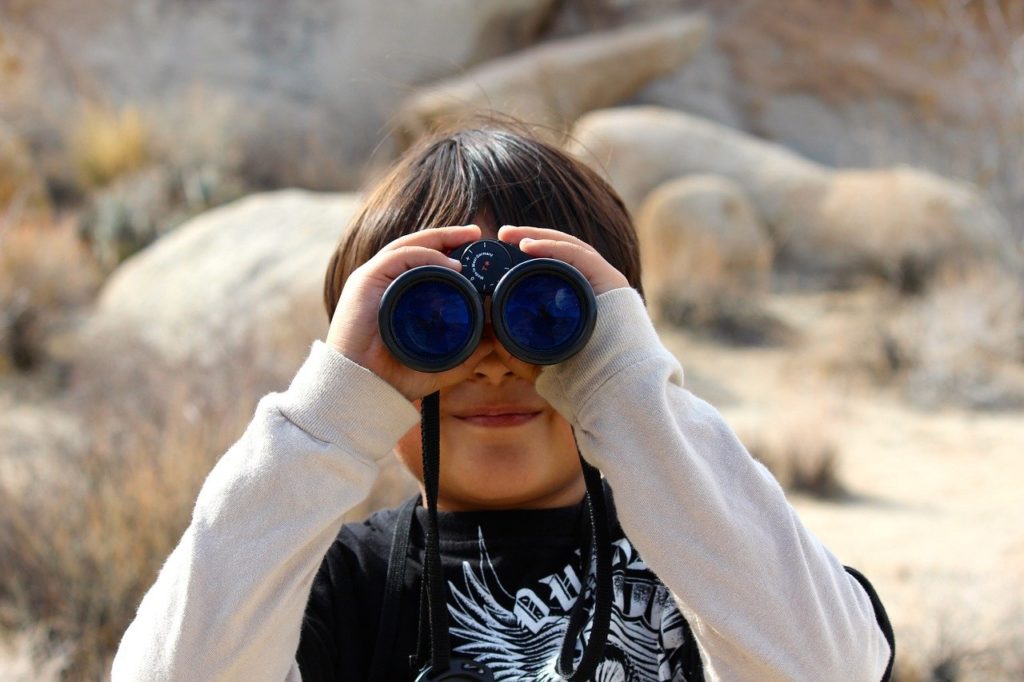 So think about punctuating your hike with fun moments to punctuate his days and awaken him to the beauty of the mountain. Here are a few examples that will inspire you:
With a camera, he can learn to capture beautiful images. He will get excited about the mountain landscape that forms a face or about those little flowers that remind him of the ones in your garden. Photography is an excellent tool to awaken his curiosity about details that he might not otherwise have noticed.
Take breaks in strategic places to observe the wildlife on the Tour du Mont-Blanc. Here a marmot, there an ibex, up there a bearded vulture. Discretion and patience will be your allies, for the pleasure of all. Caves, rivers, lakes are also good ways to punctuate your route with moments of observation of the environment and its inhabitants.
Think of geocaching, a life-size treasure map that is a hit with adults and children alike. The principle is simple: thanks to a smartphone application, go in search of "geocaches" (boxes/beacons hidden there by other players) near your hiking spot to get off the beaten track. A good opportunity to explore the mountain while having fun!
Motivate your little group to build a hut, organize a visit to a mountain pasture, plan a donkey ride or simply enjoy the night away from light pollution to observe the stars…
Despite what one might think at first glance, the variety of activities that can be envisaged during a family trek around Mont Blanc is actually quite large.
So take advantage of this opportunity to experience a hike that is out of the ordinary!
Spend the nights in comfortable accommodations
Finally, for a family trek around the Tour du Mont-Blanc, it is strongly advised to book accommodation rather than bivouac.
Of course, bivouacking to spend your nights in the heart of nature is an enriching experience for the youngest. However, this will require you to carry a heavier load, as well as a more difficult organization with children.
You should also know that bivouacking on the TMB route is subject to certain rules. You will find more information about this subject in this article dedicated to the Tour du Mont Blanc in autonomy.
With your family, the easiest way is to stay in refuges, hostels or lodges where you will only have to settle down to spend a good night's sleep. For more convenience, you can even be guided on short treks during which accommodation, shuttles and luggage transfers will be taken care of.
In short, you will have nothing to worry about but spending a unique moment with your family in the heart of the Alps!
To learn more, find our list of refuges and gites on the Tour du Mont Blanc !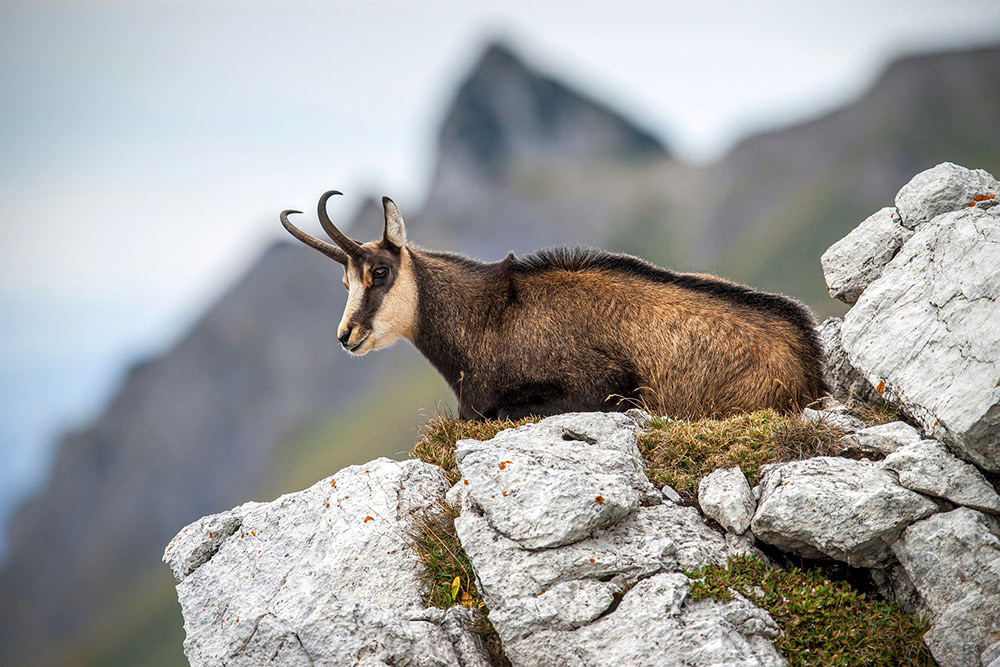 ---
Now that you know everything about organizing a good family trek around Mont Blanc, it's time to go for a walk on the peaks with your children!
Taking into account the age and the physical capacities of your child is of course the number one advice in the choice of an itinerary. As you can see, don't think too big. There will always be time to increase the difficulty of the trek with the experience of the terrain.
The question of comfort, whether material or organizational, is also very important. A good, complete and quality equipment can make the difference in the most difficult moments.
In the same way, not having to worry about bivouacs and luggage transport is a key point to allow you to make the most of your family trip. For this, the best thing is to call upon a specialized agency like Watse/Trekking Mont-Blanc which will take care of planning your trek to measure.
Finally, it is necessary to offer different kinds of fun activities throughout the stay. They will allow you to discover the richness of the Alps and to appreciate the moments of walking at their true value.
So, are you ready to go around Mont Blanc with your children?