Doing the Tour du Mont Blanc on your own requires careful preparation.
The Tour du Mont Blanc is a trek in the Alps that can be done in different ways. By doing short stages that allow you to stroll around and discover the many small villages and hamlets that line the route; by taking the Alpine variants and/or the Haute Route to get close to the summits and glaciers; by express, thanks to the developed network of shuttles and buses in the Mont Blanc region that allow easy transfers between villages… Everyone can design a Tour du Mont Blanc to do in the spirit that he or she likes.
If you are a lover of roaming and you prefer total freedom to comfort and you are planning to do the Tour du Mont Blanc, you have certainly already thought of doing it in bivouac! Despite the fact that it imposes additional constraints and requires meticulous organisation, trekking in bivouac allows you to free yourself from the itineraries and stops imposed by the need to sleep in a refuge.
It is possible to do the Tour du Mont Blanc on your own, provided that you meet a few pre-requisites:
An adapted physical preparation
A good organization
Choosing the right hiking equipment
Compliance with certain rules specific to the TMB
In this article, discover the tips based on the experience of our specialist Tour du Mont Blanc guides to succeed in your autonomous trek! 🙂
How to prepare the Tour du Mont Blanc in autonomy
To do the Tour du Mont Blanc on your own, you will need to plan your route and options and prepare your body for the effort you are about to ask of it.
Preparing a trek in autonomy
Information about the Tour du Mont Blanc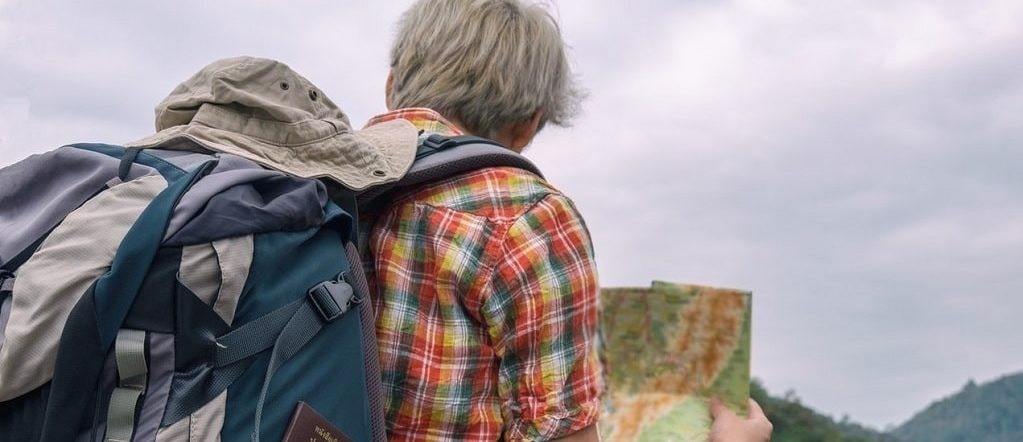 To prepare a trek in the Alps such as the Tour du Mont Blanc in autonomy, start by documenting your trek through the official topo-guide, press sites specialised in trekking and the mountains and thanks to the feedback that internet users share on their blogs and on social networks.
Don't hesitate to ask questions to those who have already done what you want to do! Generally, they will be happy to exchange and will be a source of valuable information.
Are there any points that should not be missed? Are there any notable difficulties? Where can we get supplies? What is the best time to do the trek? Are there any interesting variations? Is it possible to bivouac anywhere?
Gather all the information you can and write it down. They will help you to prepare your Tour du Mont Blanc in bivouac (or a similar trek in France).
How to create an autonomous trekking itinerary?
With the help of the maps and descriptions, create the route you want to do. For the Tour du Mont Blanc, your itinerary can be the classic route, the Tour du Mont Blanc in 10 days. But you may want to do some variations, for example, do it in the opposite direction to the one that most hikers choose or start from somewhere else.
Once you have the global itinerary of your Tour du Mont Blanc in bivouac in mind, break it down into one-day stages. Be careful: don't bite off more than you can chew! Prepare feasible stages and do not plan each day of hiking as an ultra-trail.
A day's walk in autonomy with 1000 metres of difference in altitude over a distance of around 15 km is already a very beautiful stage. Adjust the distances and the difference in altitude according to your desires (do you want to do a sporty trek or, on the contrary, a bucolic itinerary?)
You can base your route on the classic stages and then lengthen and shorten them depending on whether you want to sleep elsewhere than near the huts or villages or if you want to take paths that are ancillary to the main route, for example.
When your stages seem coherent in terms of distance, elevation gain and interest, it's time to check:
Can you bivouac where you plan to stop? It will be easier on the outskirts of a hamlet or a lake than in a big city or in the middle of a scree!
Is it possible to buy food on your way? You don't need to buy food every day (that's the whole point of trekking on your own!). However, after 4 days, the food reserves start to become very heavy to carry.
Where can you get access to drinking water? Huts, villages, springs, streams … find out where you can get water.
If your walking days are affordable, you can pitch your tent at the end, and you have water and food available, then everything is perfect.
An advice to prepare a trek away from the beaten track: try to integrate some "rest" stages, shorter, to relieve your body and not push it to its limits every day. Doing the Tour du Mont Blanc in freedom is much more demanding than a day hike, so take it easy, especially if you are going for a long time.
Physical preparation for the Tour du Mont Blanc in freedom
Don't skimp on physical preparation for a bivouac trek, even if you are used to hiking or have already done a bivouac trek. If you are not well prepared, you could get injured or suffer from muscle pain that could prevent you from enjoying your mountain trip.
In the months before your departure for your Tour du Mont Blanc in autonomy and especially in the weeks before, do day hikes or two-day hikes on a regular basis. Start with affordable hikes and then gradually add difficulty (distance, altitude difference, off-piste…).
Go to the mountains with a bag that looks like the one you will have on your Tour du Mont Blanc. If you are used to walking in ultra-light mode, carrying 10 kilos or more will surprise you!
An excellent way to prepare for a trek such as the Tour du Mont Blanc in bivouac is to practice endurance and cardio sports: cycling, running, swimming, etc.
You can also do specific muscle preparation indoors. Carry out strength training exercises that focus on the areas that will be heavily used: back, thighs, calves, buttocks…
What equipment to use for the Tour du Mont Blanc bivouac?
A bivouac tent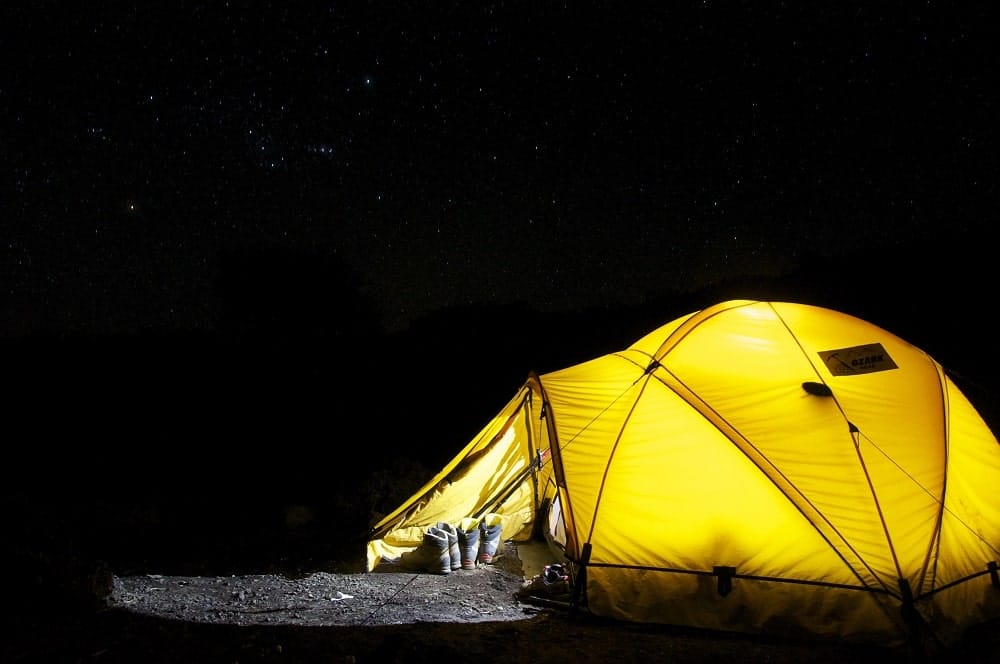 The question of the equipment is central in the preparation of a Tour du Mont Blanc in autonomy. The challenge is to find the best compromise between what is necessary, lightness and comfort . This one is therefore partly subjective.
If you want to do the TMB on your own, take along a suitable bivouac shelter. A tarp or a light tent for one or two people are the best options to shelter you from the bad weather and the night. If you go in summer, a 3 seasons tent will be perfect.
Choose a tent that is light (maximum 2 kilos), rain resistant and compact when stored. Although they are spacious and very easy to pitch, forget the "2 second" tents!
Weight is generally proportional to comfort: the more spacious the tent, the heavier it will be. If you want to bivouac around Mont Blanc, we advise you to choose a light tent that allows you to at least stand on your knees (to prepare food inside, in case of bad weather) and that offers you the possibility to shelter your stuff during the night (inside or in the apses).
Here are 3 tents suitable for the Tour du Mont Blanc:
A bivouac mattress and a sleeping bag
A sleeping bag adapted to the temperatures you might encounter is essential for a Tour du Mont Blanc bivouac. A sleeping bag with a comfort temperature between -5°C and 0°C is a very good choice. It will allow you to sleep without fear of the cold, even at high altitudes.
There are two choices for the bag's lining:
A sleeping bag filled with synthetic fibres is more economical and easier to clean but heavier.
A sleeping bag filled with down or natural fibres is lighter (because it is more insulating) but more expensive and difficult to maintain.
If you want to sleep in the mountains, you will also need to bring a ground mattress to avoid back pain. To choose it, make a choice between compactness, comfort and weight.
Foam floor mats are the cheapest and lightest, but offer spartan comfort.
Self-inflating mattresses are more comfortable but heavier and often more cumbersome.
Air mattresses are very compact and comfortable but also very fragile!
A camping stove and a pot
To feed yourself during your autonomous Tour du Mont Blanc, you can create an itinerary that allows you to refuel every day. Thus, you will not have to prepare anything. However, this choice often prevents you from doing mountain stages of more than two days without crossing a village or a refuge.
If you have to make food, we advise you to prepare hot meals in the evening. In addition to being comforting, a hot meal effectively replenishes the energy reserves you have used up during the day's walking.
To do this, take a stove with you. The most basic ones work with gas (be careful with the cartridges you can use with them!) but there are some that work with liquid gasoline or in pebbles. The former are more economical but a gas cartridge weighs more than petrol and is not available everywhere. A gas stove allows you to heat for a long time with a small amount of fuel. However, it is more expensive and more fragile than a gas stove.
There are also stoves that run on different types of fuel.
This being said, a gas stove is more than enough to do the Tour du Mont Blanc. With the right size gas cartridge, you won't need to change it before the end and you will always be able to find some in the villages you cross.
A petrol stove is better for a longer trek and in an area where gas cartridges are not common.
Also take along a pot with a volume adapted to the number of people to heat water and your meals. Some pans, such as the Jetboil, are equipped with a heat diffuser that allows them to heat up more quickly.
Rules for the Tour du Mont Blanc in autonomy
Bivouacking on the Tour du Mont Blanc is regulated and authorizations vary according to the country crossed. Here is a summary of the rules for bivouacking on the Tour du Mont Blanc in France, Italy and Switzerland.
Bivouac on the Tour du Mont Blanc In France
On the French side, it is allowed to bivouac as long as you are more than an hour's walk from any motorized access. Furthermore, your tent can only be pitched between 7pm and 7am. Finally, you can only spend one night in the same place (this measure aims to avoid wild camping).
In addition, some refuges do not allow you to pitch your tent next to them. In any case, ask the warden before you set up!
Camping on the Tour du Mont Blanc in Italy
In Italy, it is forbidden to camp below 2500 meters of altitude. This means that you cannot camp in the vast majority of the Italian part of the TMB. It will be necessary to plan a few nights in refuges or in the numerous campsites in the villages crossed.
Sleeping on the TMB in Switzerland
In Switzerland, the rule concerning bivouacs on the Tour du Mont Blanc route is simple: it is forbidden. When you are on the Swiss side, you will have to spend the night at the campsite.
---
Ready for an adventure on the trails of the Tour du Mont Blanc? 🙂
If you have any question, please feel free to check our organized trips and contact us. We will be delighted to discuss your trekking project with you!
To organize your stay with a trekking guide specialized in the Tour du Mont Blanc and to realize it in autonomy, discover our solution of Tour du Mont Blanc in freedom!