How to choose the best hiking poles? This is a question that is (very) often asked, but there is no simple, ready-made answer.
However, choosing the right trekking poles is essential for them to accompany you effectively on your outings and trips in the mountains.
In this article, find out some tips on how to choose your hiking poles 🙂
Quick navigation:
Why do you have to walk with hiking poles?
Walking with hiking poles gives you extra balance when walking on more or less uneven terrain. They are very useful on slippery (snow, ice) or very stony paths.
Poles also take the strain off your joints (ankles, knees, pelvis) and your back. By walking with hiking poles, you reduce the weight and effort you put on them with each step by distributing it partly on your arms.
How to adjust hiking poles?
For your hiking poles to be really useful, they must be the right length. Too long or too short, they will hinder you more than they will help you.
To properly adjust a walking stick, it should be the same length as the distance between the ground and your elbow. When your elbow is at a right angle, you should be able to hold your pole straight and touching the ground as in the picture below. This way, with a good size adjustment, the support it offers is optimal: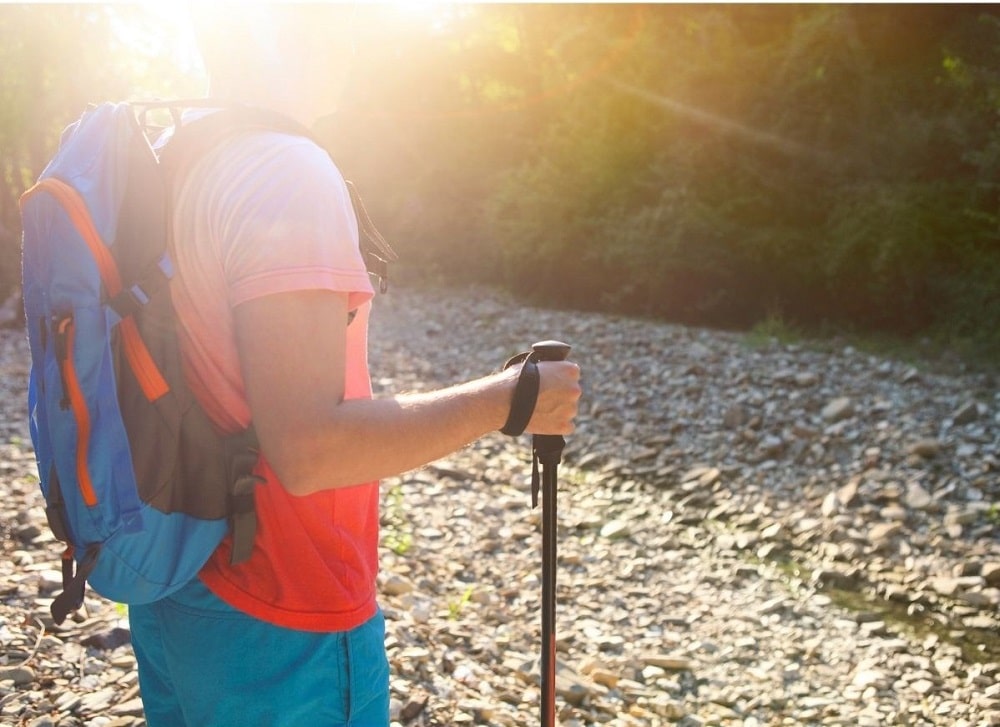 How to choose hiking poles?
How many strands for a hiking pole?
For a day hike on flat or hilly terrain, a single-stranded pole is suitable because it is not necessarily important to be able to store it in your backpack or to adjust its length several times.
However, for hikes on technical terrain or multi-day treks, telescopic hiking poles are best. You can store them in your backpack or hang them from it, and their versatility allows you to adjust their length to suit the slope or terrain.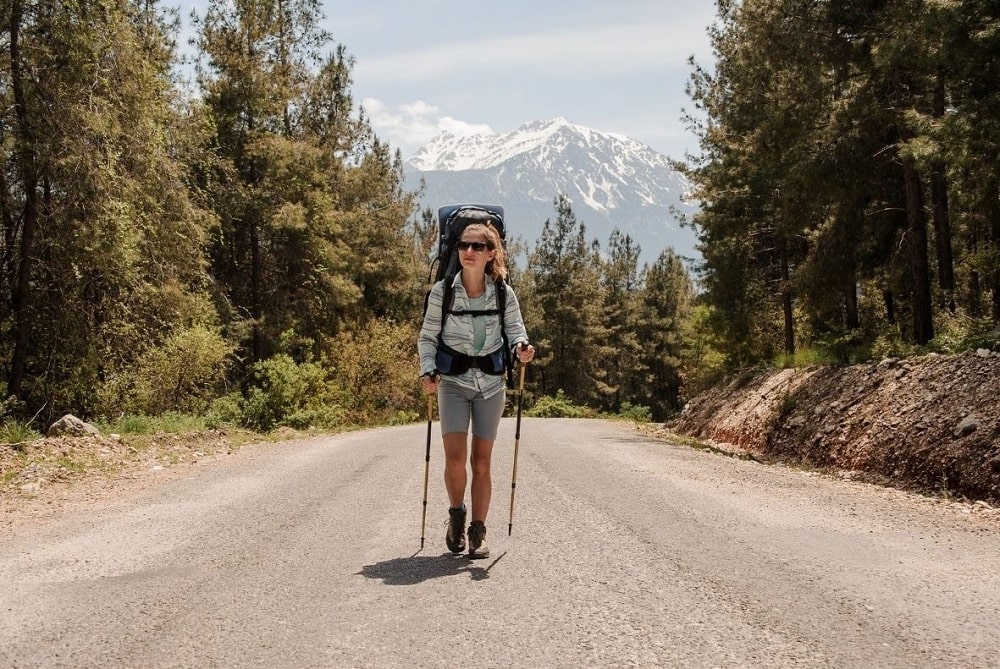 1 – The single strand sticks or "one strand" sticks
Single-piece hiking poles are made of a single tube. They are the strongest walking poles because they are not weakened by one or more adjustment systems. Moreover, they are more resistant to shocks and tensions thanks to their greater flexibility.
However, the single-pole hiking pole is the least versatile. You can't adjust its length, and you won't be able to pack it in your hiking bag or hang it up without it getting in the way.
2 – The two-shaft hiking poles
Two-pole hiking poles are among the most common. They are easier to hang along the side of a hiking pack than single poles, but are still quite bulky. They are also slightly less sturdy because of their clamping system and can bend if subjected to a sideways lean. Despite this, two-pole poles are the best compromise between relative size, easy adjustment and strength.
3 – Three-shaft hiking poles
Three-piece hiking poles are the most common. The three-part tube allows you to adjust the size of the pole precisely, while at the same time allowing you to store the pole easily on a backpack or even inside.
However, they are heavier than those mentioned above. They can break more easily because of their two clamping points which make them fragile.
4 – Four-shaft hiking poles
Four-shaft hiking poles are the easiest to store, sometimes at the expense of strength.
Generally foldable, these poles can easily fit inside a hiking bag. They should be preferred if you are looking for compact hiking equipment.
What is the best adjustement system?
You can find adjustable hiking poles with different adjustment systems in sports shops and on specialized online shops.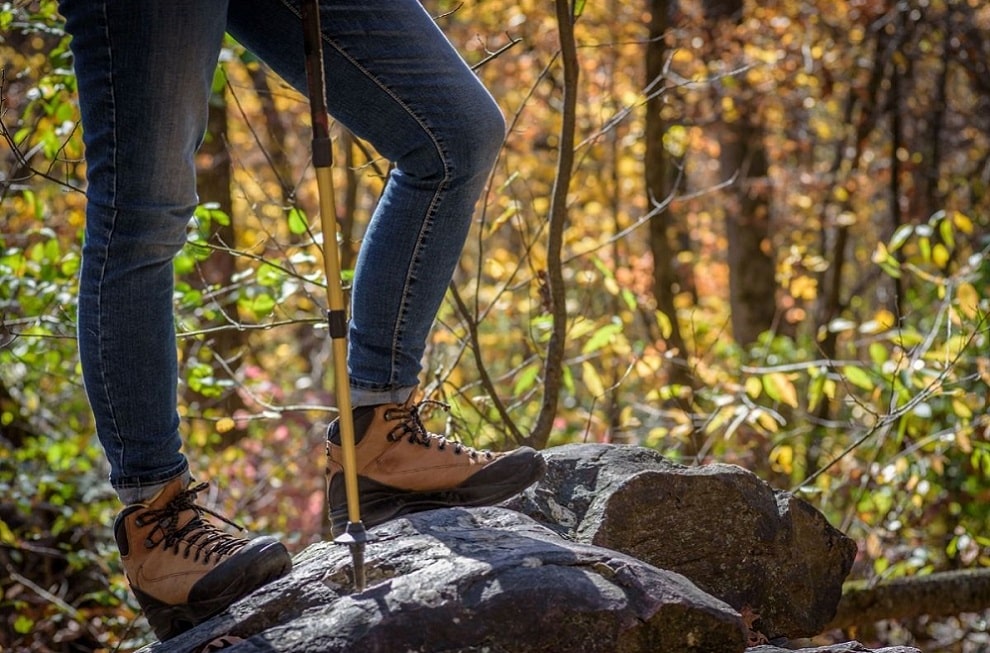 Telescopic hiking poles with screw or clip
Telescopic poles are those where you can adjust the length of the pole by sliding the individual strands of the tube into each other.
The most common system on these poles is the screw system. This is the one found on entry-level poles. The poles are screwed in and out to be locked or unlocked depending on the length you want.
Screw-in walking poles are ideal for day hikes where they are moderately used. For outings on rough terrain or snow, they may bend from wear and tear or from too much pressure.
In addition, the screw sticks sometimes suddenly go out of order! This is not only amazing, but can be dangerous in some cases.
To avoid this, you can opt for a pair of clip-on hiking poles.
This clamping system locks the strands at the length you want by clipping it.
More secure than the screw system, it is also more expensive. We recommend it for outings that require a lot of pole use: steep slopes, off-trail, steep descents or very technical terrain, for example.
Foldable hiking poles
In addition to telescopic poles, you can find folding hiking poles. The poles that make up the pole, usually three or four, are held together by a rubber band and must be snapped together to "raise" the pole.
Foldable hiking poles are the most compact and can be stored inside a daypack. However, they are less versatile than telescopic poles as they cannot be adjusted in length.
That's why they usually have sleeves under the handles. This allows them to have a good grip when climbing and descending.
What is the best material for a hiking pole?
There are two materials in which hiking pole tubes are made: aluminium or composite. There are differences between the two, but they are not huge.
Aluminum trekking poles are the cheapest. They are more durable than composite poles, but are also a little heavier. They are recommended if you are new to hiking, if you put a lot of strain on your poles or if you are looking for a good value for money.
Composite hiking poles are made from a mixture of glass and carbon fibers, which is why they are sometimes called "carbon poles". Tungsten carbide or titanium can also be added to increase the strength.
Compared to aluminium walking sticks, they are lighter but a little less durable. They are also more expensive. Choose them if your priority and the weight of your hiking or trekking equipment.
You can also find hybrid poles. For example, there are composite multi-strand poles where only the last strand is made of aluminium for an excellent compromise between strength and lightness.
Other parts of the hiking poles
A hiking pole is not just a folding tube. It is composed of other parts that are important in your choice!
Which handle for a hiking pole?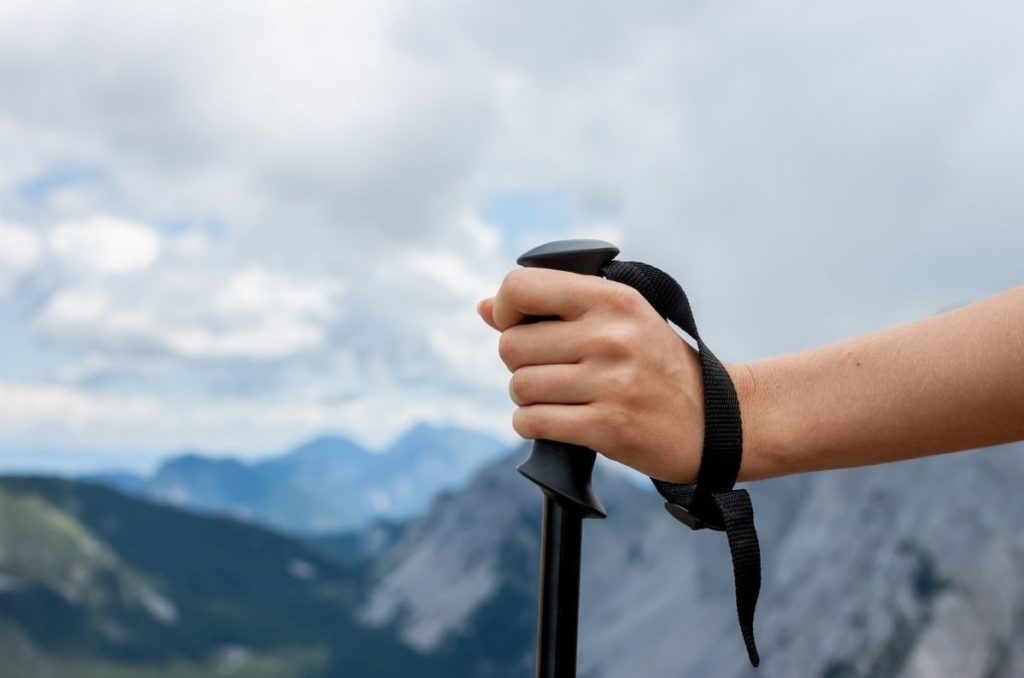 The handles of your pair of hiking poles are made of plastic, rubber or cork.
You should choose according to two criteria: resistance to wear and tear and comfort for the hands.
Cork handles are the ones that offer the best comfort and grip. However, due to perspiration and the fragility of the material, they are not the strongest and will have to be changed sooner or later.
The plastic handles are the ones that equip the entry level hiking poles. They are resistant, but can cause blisters or minor pain during long walks.
Rubber is perhaps the best compromise between comfort and solidity. It should be preferred for pole handles that last over time and do not hurt the hands, especially for multi-day treks like the Tour du Mont Blanc.
For more comfort, choose a hiking pole with a handle molded to the shape of your hands. This will give you a better grip and the handle will not slip.
Finally, a handle with a strap will prevent your pole from slipping to the bottom of the valley if you inadvertently drop it!
The puck of the hiking stick
The puck of your hiking pole should be changed according to the terrain you will be hiking on.
If you're walking in the snow, you'll need a wide washer to keep your pole from sinking into the powder.
On the other hand, for an outing on steep terrain, prefer a short puck, or none at all, to avoid the tip getting stuck between the rocks.
The washers are interchangeable on the vast majority of walking sticks.
The tip
Trekking pole tips are usually made of steel to withstand the thousands of impacts they must endure.
However, to evolve on hard ground (stones, bitumen), you can use a rubber tip. This will protect the tip of your stick and reduce the shock to your arms at each touch. Moreover, they reduce the noise of the tip!