Walking with the right hiking or trekking shoes is essential to avoid injuries (back, knees, ankles) and to avoid discomfort (wet feet, blisters). But choosing hiking and trekking shoes is a complicated matter for one simple reason: there is no such thing as a universal mountain shoe.
You won't use the same pair of shoes for a walk in the forest, an intense hike to a summit or a trek lasting more than a week. Can you imagine climbing Mont Blanc in sandals or hiking in the forest in mountaineering boots?
Every mountain trip has its own pair of shoes, although some are more versatile than others.
To choose the right hiking or trekking shoes, you must take into account several parameters to avoid suffering with each step and in particular :
your morphology
the weight of your backpack
the type of hikes and treks you want to do
the type of land surveyed
How to choose hiking / trekking shoes? In this article, the Trekking Mont Blanc guides offer you all their tips to find the pair that is made for you 🙂
Summary:
Choosing hiking / trekking shoes: what is important?
You have certainly already noticed that there are dozens of different models of mountain boots. High, low, ventilated, waterproof, heavy, light … but what are the criteria that will allow you to make the right choice?
1 – Choose hiking or trekking shoes with good ankle support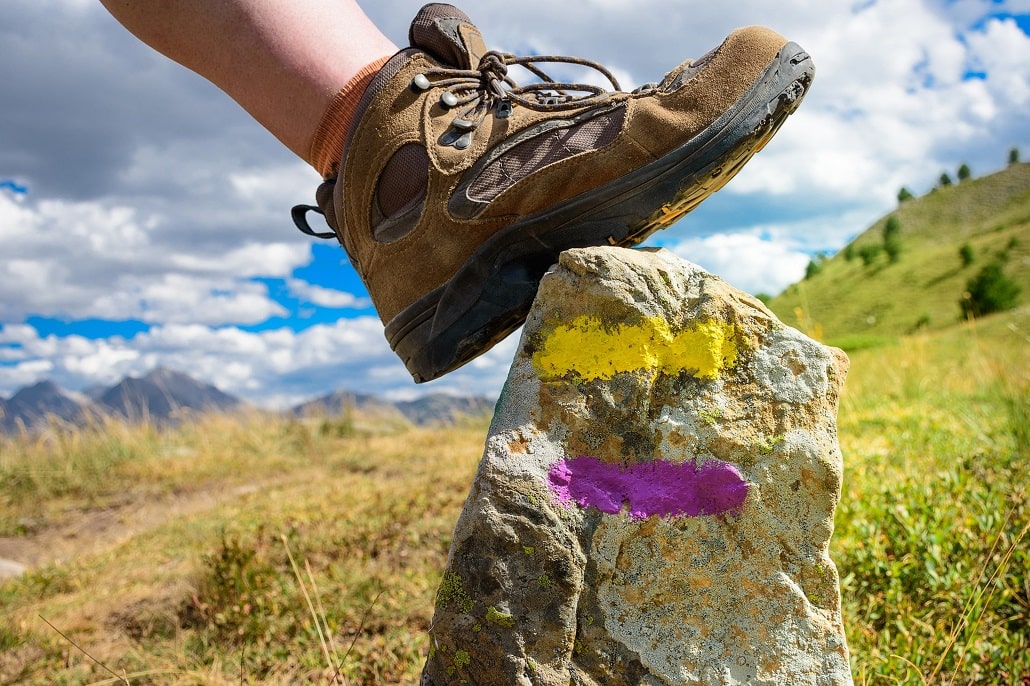 Unless you are only hiking on trails that are not rugged and do not have large elevation changes, your hiking boots should support your ankles and cover them. On a multi-day hike, this will be essential as you will certainly be traversing varied terrain.
Choose hiking or trekking shoes that support your ankle well to avoid sprains.
Moreover, by maintaining your joints, they will relieve them and avoid you to have pain at the end of the day or after several days of trek.
2 – The rigidity of the sole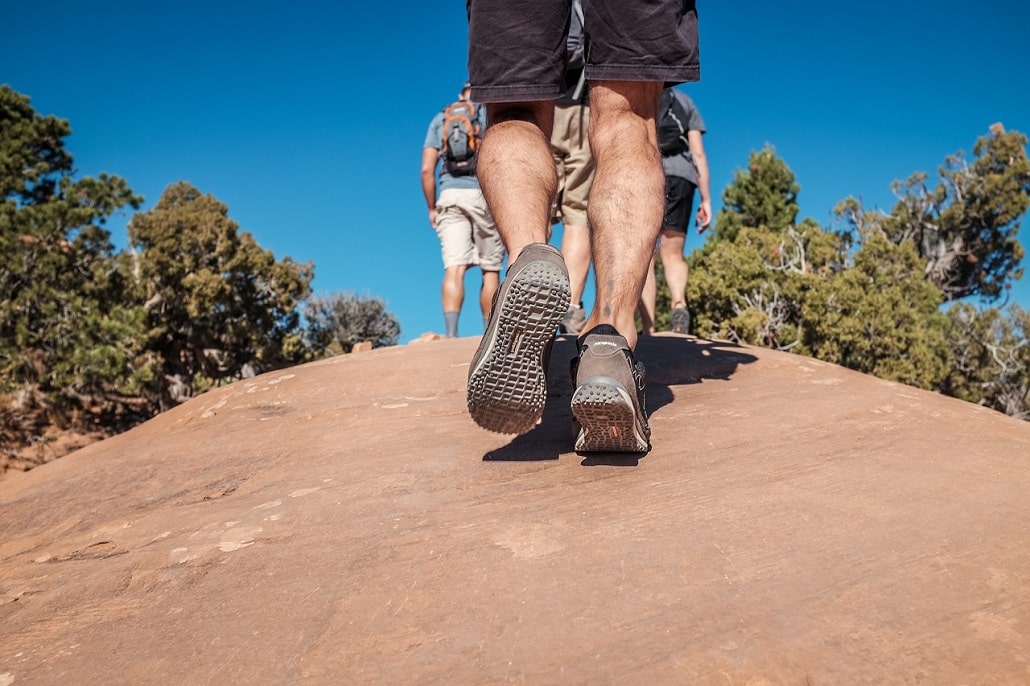 If you are walking on uneven paths, choose shoes with rigid soles. They will ensure a better support of your foot in the shoe.
A hard sole allows you to walk over rocks and boulders without slipping or "bending" your shoes. For outings with small differences in altitude, choose hiking boots with soft soles.
Rigid soles (mountaineering and high mountain hiking boots) are made of hard rubber. They offer a strong grip and last over time. On the other hand, soft soles (low and mid shoes) are made of soft rubber and facilitate the rolling of the foot but have a shorter life span.
3 – The grip of the sole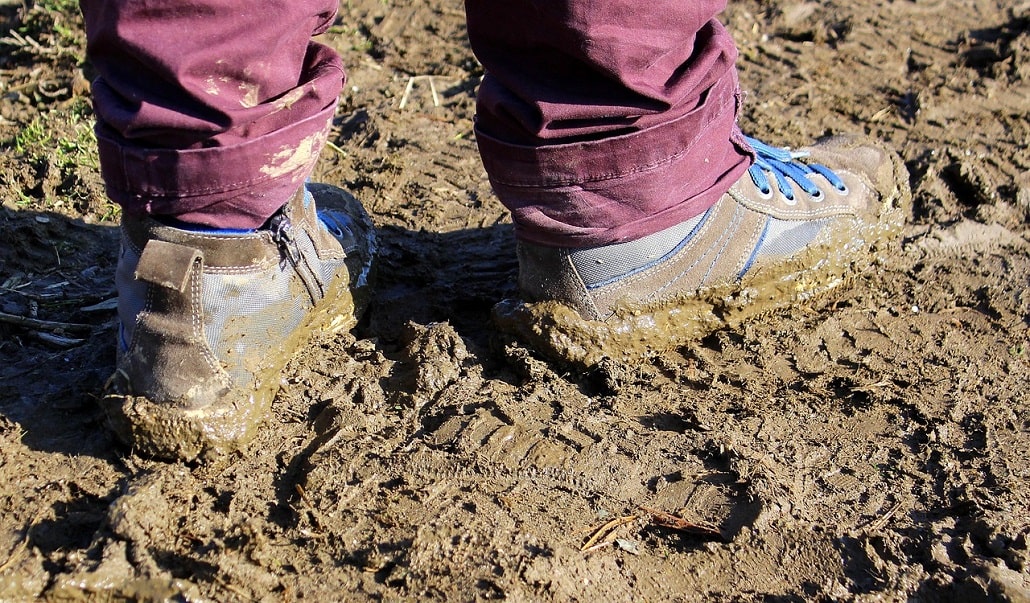 Choosing hiking or trekking boots with good grip is necessary for almost all types of mountain outings. If you wear sneakers or smooth soles, you will slip at the first mud puddle or wet rock on the trail!
Choose mountain boots with soles that have a notch adapted to your outings.
A pronounced notch and a wide sole are ideal for muddy terrain, while shallow lugs and a wide sole are recommended for rocky and hard terrain.
4 – Cushioning of hiking boots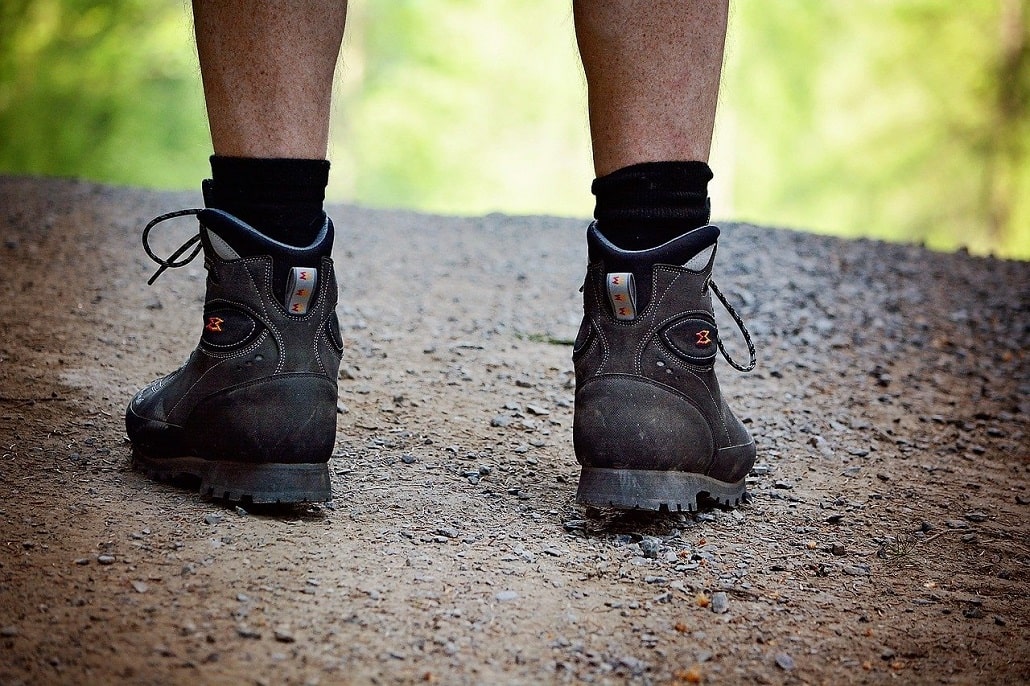 Mountain boots with good cushioning are necessary to avoid back and joint pain. If for a one-day hike, these aches remain relative, they can become a major inconvenience during a multi-day trek.
Believe the author of these lines, trekking with old shoes that have no cushioning is a real pain!
Hiking boots are made up of several soles:
an inner sole: it can be removed for cleaning and replaced by another one.
a midsole: generally made of EVA (polymer) or foam, more rarely gel, it cushions the blows. EVA offers better cushioning than foam but it also wears out faster.
The outsole: cramponed, its role is to ensure the grip of your hiking / trekking boots. Depending on its composition, it can be more or less cushioning.
Compare the compositions of different hiking / trekking boots to find the ones that suit you.
5 – Protection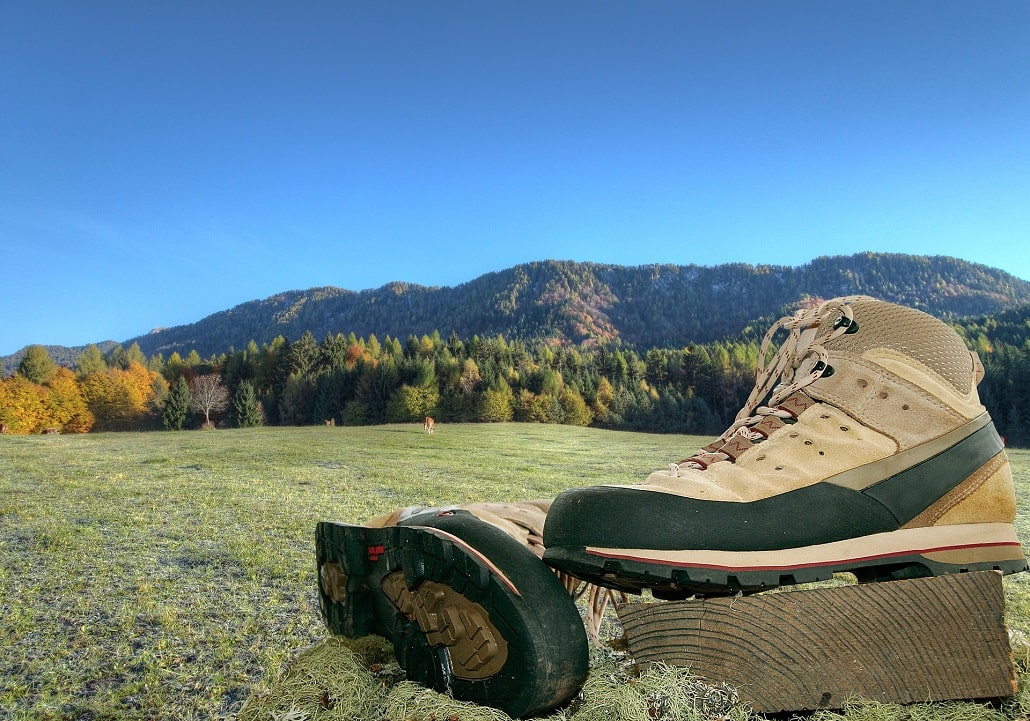 Hiking and trekking boots are the target of shocks, scrapes and snags on mountain and forest trails. This contributes to their wear and tear.
Do you feel like burning a hole in your mountain boots because of a rock on the path? Even a gash that is superficial at first glance can deepen and widen later on, which will wear out your mountain boots and make them more permeable.
If you're not just walking on rolling roads, choose protected hiking and trekking boots.
Side stone guards are present on many models of mid and high mountain hiking boots and on most trekking boots. They prevent stones on the path from scratching, notching or even piercing your shoes.
Some trekking boots have reinforcement systems that allow the fabric or leather to suffer less from wear and tear.
Another element of a hiking or trekking boot is the tongue. A thick tongue will be more protective but can be uncomfortable. Try the shoes on to make sure you are comfortable
6 – Choose waterproof hiking/trekking boots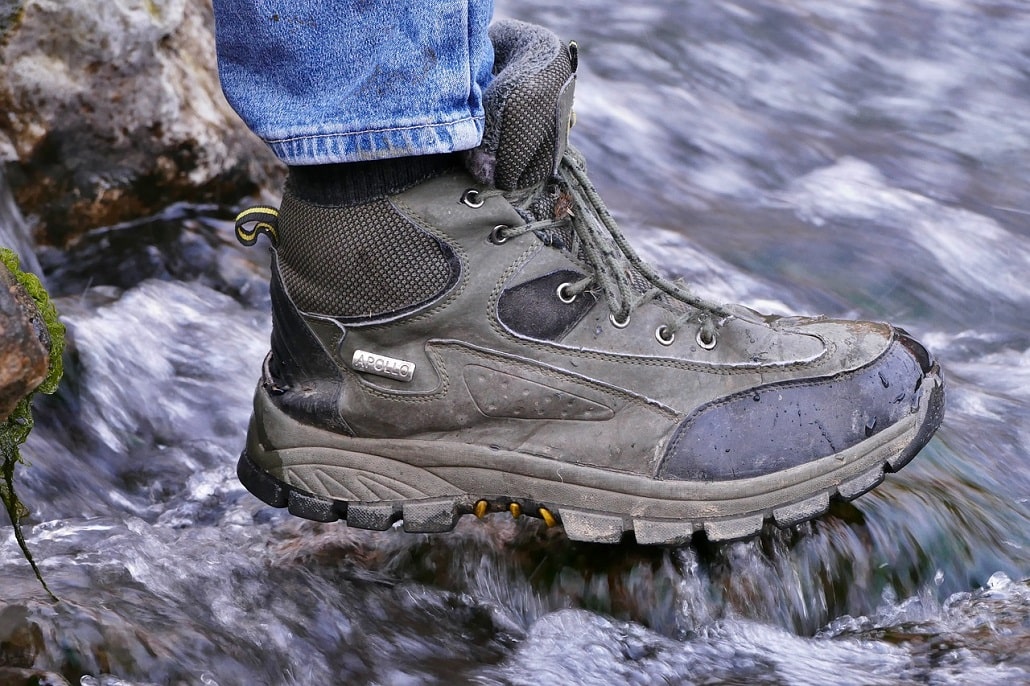 The waterproofing of hiking and trekking boots is an argument often put forward by manufacturers to praise the advantages of their products. However, no shoe is 100% waterproof or remains so. In any case, this is not to be desired since your feet would not be able to breathe.
Some materials are more waterproof than others and protect very well from water. Gore-Tex, Novadry, Sympatex, etc. membranes provide a certain amount of waterproofing (depending on the waterproofing index) while remaining breathable.
They allow your feet to stay dry when walking through wet grass, mud, rain, or even directly in puddles, but they will not stay waterproof if you walk in water for a long time!
How to extend the waterproofing of your hiking and trekking boots?
Clean them regularly because the mud is corrosive and damages the membranes. Start by brushing them and then use a suitable cream to treat them. You can also use a waterproofing spray or cream.
7 – Lacing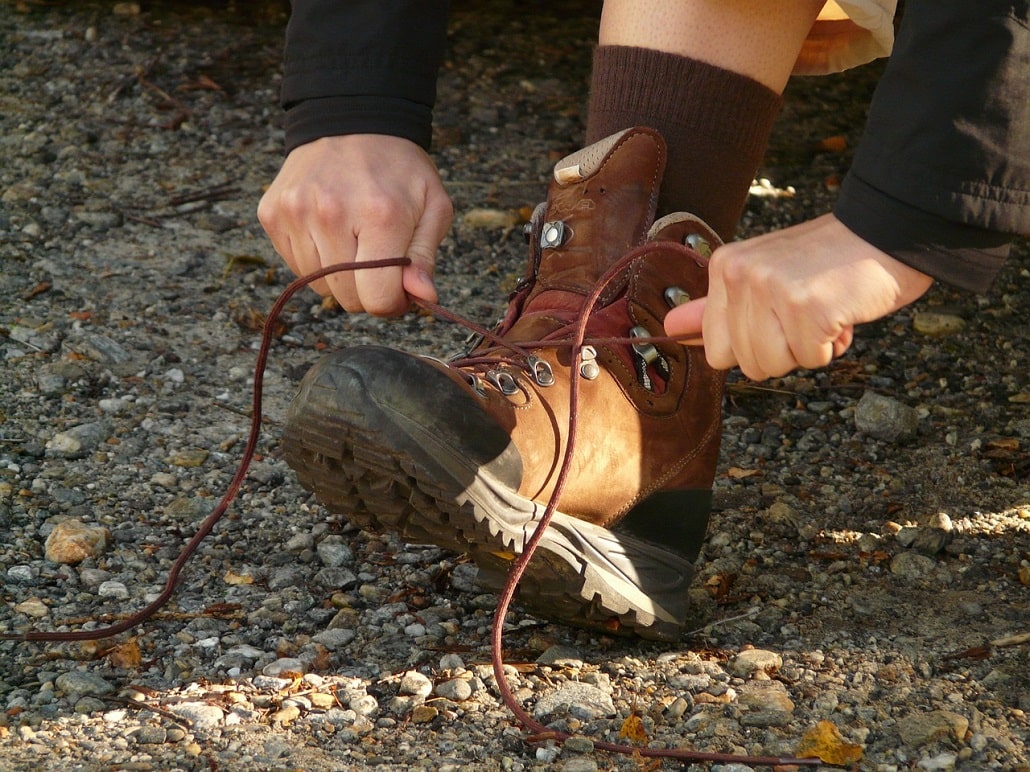 Depending on the type of shoe, one, two or three support hooks will allow you to tie your laces. They are essential to maintain your feet and ankles.
Self-locking laces and/or eyelets will allow you to tighten your laces without effort. They will also prevent your laces from coming undone during your hike.
If you opt for lightweight shoes, you'll appreciate the quick-lace systems that can be done and undone with one hand.
Making your hiking and trekking boots last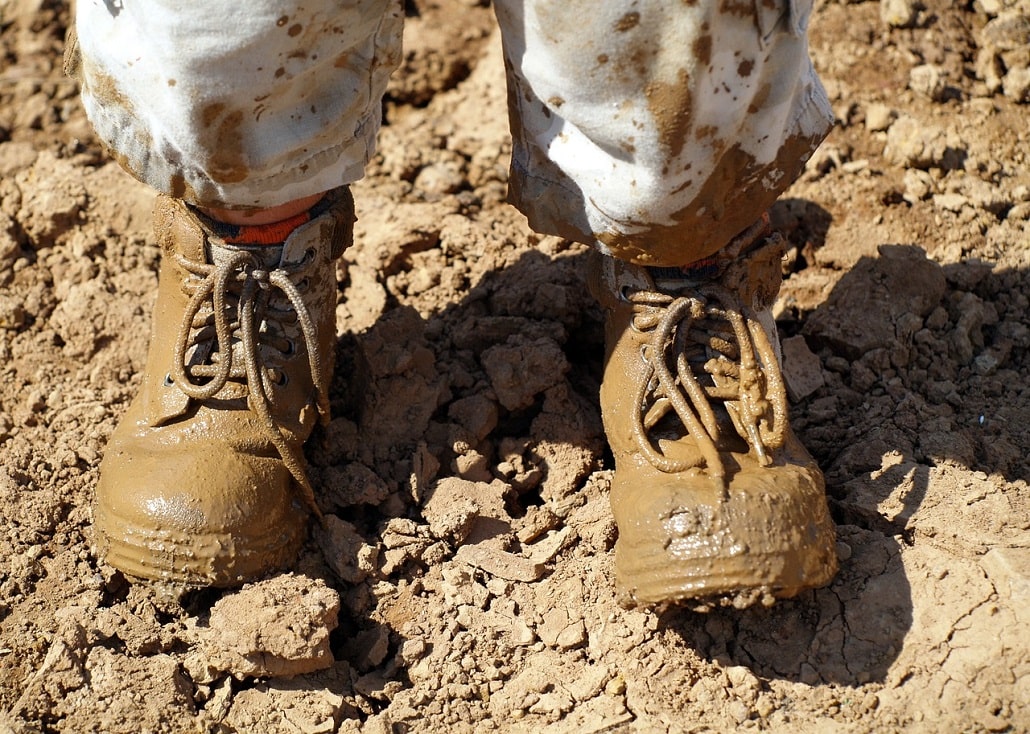 Hiking and trekking boots are the part of a hiking gear that you don't want to renew every six months. Here are a few things to help you choose mountain boots that will last a long time.
The composition of hiking and trekking boots
Leather mountain boots are very durable and will last a long time and are waterproof. However, they are quite heavy.
Nubuck shoes (treated leather) are lighter but a little less resistant.
Synthetic shoes (mesh) are very light and breathable but they are also more fragile and permeable.
The midsole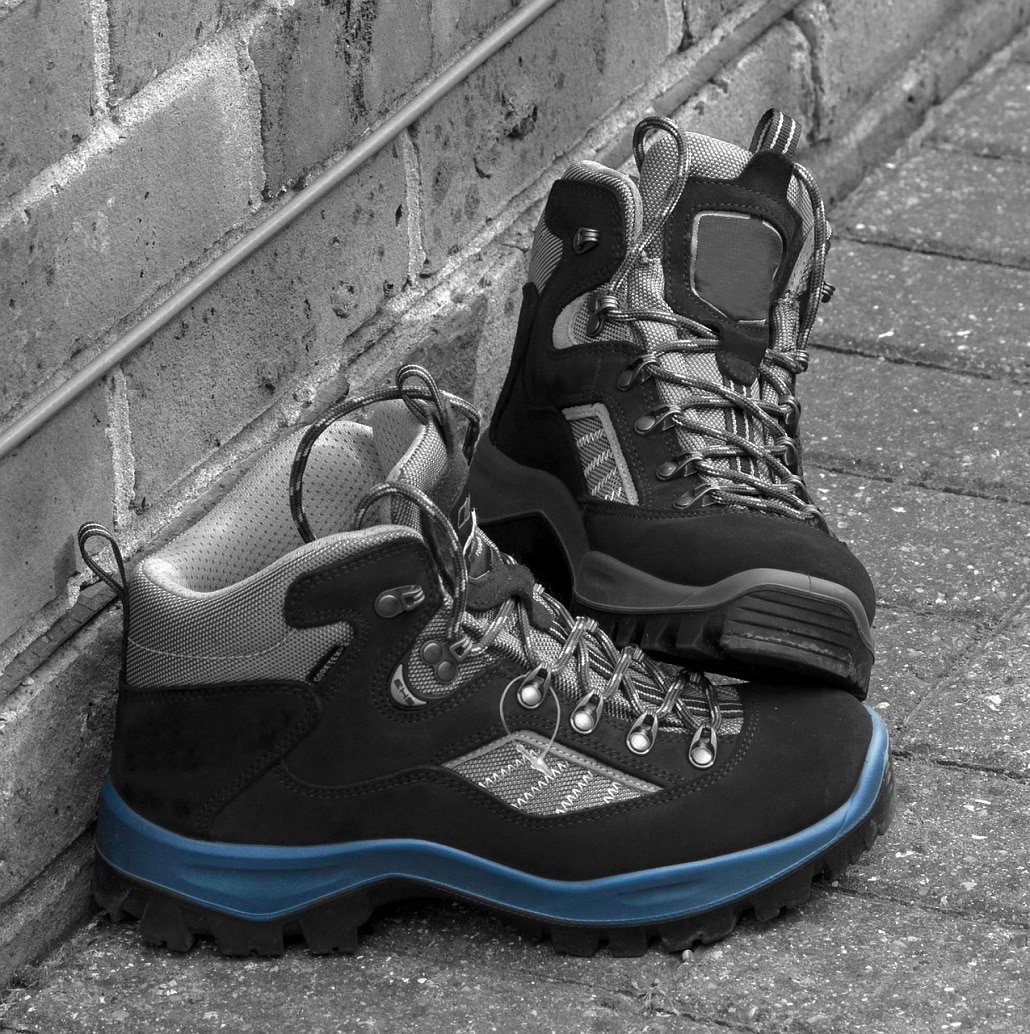 The EVA midsoles offer great cushioning but wear out fairly quickly.
Foam soles are less cushioning but more durable than EVA soles
The microporous midsoles built into high-end shoes are very light, cushioning and offer great stability but wear out very quickly.
The grip sole
Hard rubbers are used in mountaineering and high mountain hiking boots. They are used for very rigid soles that offer excellent grip and last over time.
Intermediate rubber is softer but still grippy and makes it easier to roll the foot. They are found on most trekking and mid-mountain hiking boots designed for walking on varied terrain.
Soft rubber is found in the soles of low shoes made for hiking on gentle terrain. They make it easier for the foot to roll off the ground but are less resistant to wear.
Clean and maintain your hiking and trekking boots
To prolong the life of your hiking and trekking boots, clean them regularly or when they are too dirty. Dry mud attacks the membranes and causes the metal hooks to rust.
Start by brushing your mountain boots with a soft bristle brush, a cloth and a little water, if necessary. If your shoes are made of leather or nubuck, apply a maintenance lotion that nourishes the material. Rub it in well with a brush or cloth and let it dry. Make sure you use a product that is suitable for your shoes!
If your shoes are made of synthetic mesh, you can waterproof them regularly with a spray or cream product.
Have your mountain boots repaired
Even if your shoes have been through many hikes and multi-day treks like the Tour du Mont Blanc and their condition is worn out, they may still be able to accompany you if a shoemaker takes care of them.
A specialist will be able to replace parts that are too worn, such as eyelets or hooks. He will also be able to renovate your shoes by changing the tongue or even resealing them.
The different hiking and trekking boots
There are different models of hiking and trekking boots available on online stores and in sports shops. Which ones to choose for which hike?
Mountaineering boots
They are made for … mountaineering.
Specifically, shoes such as those from La Sportiva or Garmont are designed to walk on snow, ice and off-trail and accommodate crampons. They ride on a good part of the shin to offer maximum support. Their soles are rigid so that they do not bend and offer excellent grip.
Trekking shoes
Trekking shoes are designed for multi-day hikes and varied treks in the Alps or elsewhere on very diverse terrain and with heavy equipment. They are fitted to ensure good ankle support.
The midsole is generally made to not wear out too quickly and to offer a very good cushioning, vital when walking several days in a row. The grip sole is generally quite wide and the notching is intermediate to create a good compromise between grip, adherence and walking comfort.
When choosing trekking shoes, we advise you to choose a waterproof model because you are not safe from a rainy day (or several) during your trip!
High mountain hiking boots are similar to these with the difference that the sole is stiffer and narrower. This gives them a better grip on rough terrain.
Mid hiking boots
The "mid" upper shoes are made for mid-mountain hiking.
With both good ankle support and decent grip and cushioning, they are definitely the most versatile hiking boots. They are also lighter than the previous ones and won't get in the way of a walk.
You can walk on rough trails if you have hiking experience. You can also trek for 4 days or more with these shoes. However, for longer treks or self-sufficient hikes, you may suffer from joint pain, especially if you have a heavy backpack.
Light hiking boots
Light shoes do not support the ankles. They are therefore more suitable for day hikes on the plains or in the mountains with small differences in altitude.
Their soles are flexible to allow the foot to roll easily. Their main advantage is their lightness compared to the models mentioned above. Sporty hikers will naturally appreciate them.
In terms of grip, low shoes were generally not very grippy. However, there are now some with very grippy soles made for approach walks to climbing spots and via ferratas.
Trail shoes
Trail shoes are more designed for mountain running than hiking. Logically, they are very light and offer very good cushioning. Their toe box is generally deep and their soles are narrow to offer both precise and grippy walking.
However, trail shoes are made of synthetic material and are ventilated, so they do not protect or support the ankles!
Make an informed choice.
How to try on hiking and trekking boots?
Now that you know more about the criteria to take into account when choosing your next hiking or trekking boots and the main models available, here are a few tips to avoid making a mistake when trying them on!
When you try on your mountain boots, there should be 1-2 centimeters of space so that your foot is not too tight. To check, push your foot forward. You should be able to slip a finger between the back of the shoe and your heel.
The shoe should hold your foot in place and your heel should not lift off the sole when you walk. If not, you can change your shoe size or opt for a higher insole.
The toes should not be tight. Check that you can move them a little inside the hiking boot.
The stiffness may seem like a hindrance in the store, but keep in mind that you will be walking in these shoes on rocky trails!
Try your shoes on with hiking socks, not thin socks. You might get the wrong size and find yourself cramped.
---
Now you can choose your next hiking or trekking shoes with full knowledge of the facts 🙂
We hope you find this article useful. If you have any questions, please feel free to leave us a comment, we will be happy to read and discuss with you.