When planning to do the Tour Du Mont Blanc, it is necessary to think about the best time to do it. The best time to do this trek is between mid-June and early October. Most walkers do it in July and August. However, doing the Tour du Mont Blanc in autumn is possible and is even an excellent idea!
July and August are the most popular months for hikers because the temperatures are more pleasant. It is also during this period that many people can go on holiday.
But how about not doing what everyone else is doing, by postponing your departure a bit? In this article, discover the advantages of doing the Tour Du Mont Blanc in autumn and our tips to make it a success! 🙂
Why hiking the Tour Du Mont Blanc during the fall is a great idea
There are many arguments to convince you to do the Tour du Mont Blanc in September and October.
First of all, autumn means fewer people on the trails.
This is an important point when you are looking for the serenity and peace of the mountains. You will be able to enjoy a calmer, more leisurely trek, really taking the time to recharge your batteries at the rhythm of nature.
Less crowds on the trails also means more accessible and less crowded mountain huts. This is the perfect opportunity to spend more peaceful nights and avoid the panic of not being able to book a night!
Doing the Tour Du Mont Blanc in autumn is therefore an ideal choice for all those of you who are looking for the silence, peace and quiet of the high mountain pastures on their route.
June is also a rather quiet period on the trails of the Tour Du Mont Blanc. However, the snow is still present at low altitude and in exposed passages such as the Fenêtre d'Arpette. It will be difficult for you to use certain sections unless you invest in appropriate mountain equipment (crampons, rope, ice axe…). You may even have to consider doing part of the trek with a mountain guide.
In September, the snow has had time to melt and is therefore absent from the trails of the Tour Du Mont Blanc. The practice of alpine variants is therefore much easier!
For example, it will be much easier to take the Haute Route du Tour du Mont Blanc, a more sporty and alpine itinerary that will surely leave you with a great and unforgettable memory of the Tour du Mont Blanc.
It would not be wrong to say that in autumn the temperatures are a little cooler than in June or in the middle of summer. However, they are still largely bearable and do not require you to get out the big down jackets, and other winter hiking clothes. Although they are getting shorter, the days are still long, which allows you to fully enjoy your experience.
How to hike the Tour Du Mont Blanc in September or October?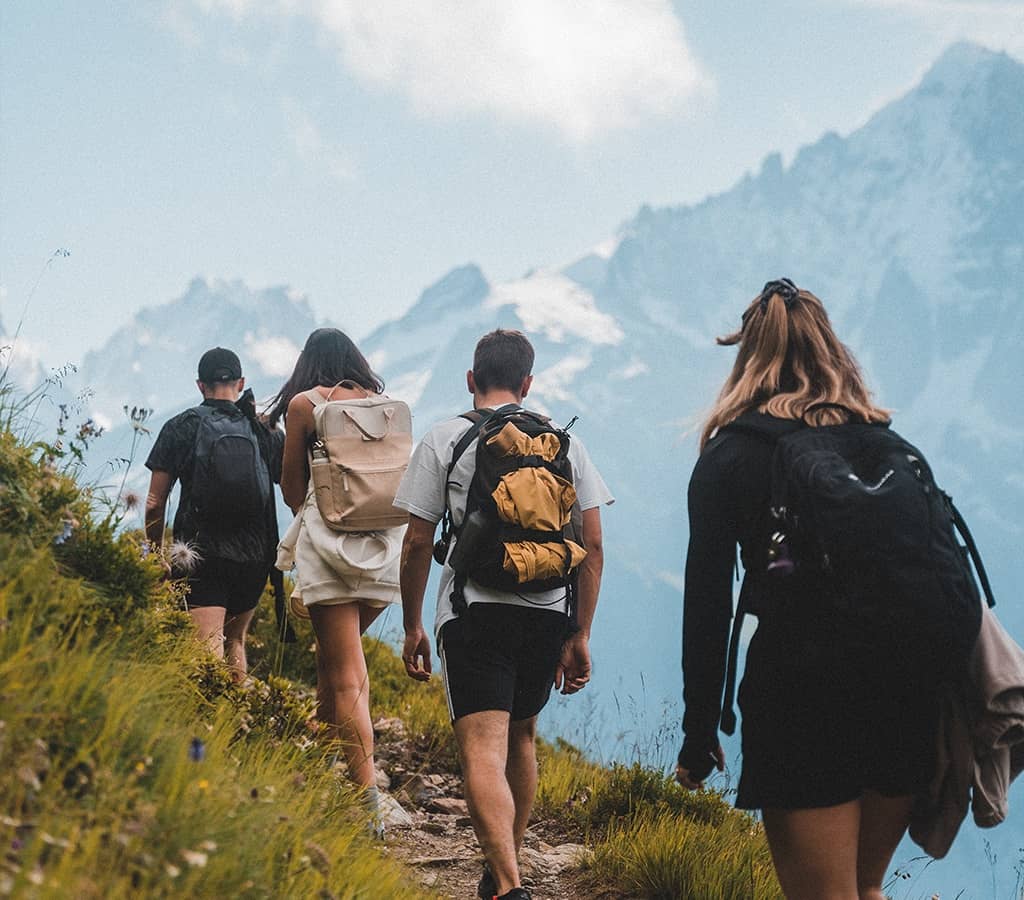 To do the Tour du Mont Blanc in September and October, several routes are possible. To help you to make your choice, we list here three of them answering different constraints such as time or difficulty.
Which itinerary to choose to do the Tour Du Mont Blanc during the fall?
The Tour du Mont Blanc by the classical way
To do the Tour Du Mont Blanc in autumn, there are several possibilities.
The classic route: between 9 and 11 days
The shortened route: 7 days
The Haute Route: an alpine variant
The first and most complete one is to do the whole Tour Du Mont Blanc.
Depending on your itinerary and your pace, you will hike 9 to 11 days, covering nearly 170 km and facing more than 10,000 meters of vertical drop.
This trekking route does not leave out any pass, any village, any passage of interest. You will discover all the richness of the French, Italian and Swiss valleys. It is the ideal route for those who can afford to take the time to discover in depth all the wonders that the massifs shelter!
Another option is to do the Tour du Mont Blanc in 7 days. This is an option often chosen by those who can't spare more than a week in their holidays.
Less difficult, with a little more than 7000 meters of positive difference in altitude, it will take you along the most beautiful stages of the Mont Blanc in a minimum of time.
Crossing also the three border countries, you will be able to enjoy all the most beautiful places and panoramas of the French, Swiss and Italian massifs, selecting only the best stages.
Please note: this itinerary requires transfers by shuttle, bus or private vehicle, which requires a more extensive prior organization.
The Haute Route
Finally, for the more adventurous among you, there is a less conventional route called the Haute Route of the Tour du Mont Blanc.
In September and October, the itinerary of this Tour Du Mont Blanc in autumn is well cleared and more practicable than at the beginning of the season.
A little known variant of the Tour Du Mont Blanc, the route goes through the heights. This 7 day trek in the Alps takes in several little marked passages, even off trail. You will also cross several glaciers! In short, an unforgettable mountain experience 🙂
To do this Tour du Mont Blanc in autumn, it is highly recommended to have some hiking and mountain experience before embarking on it.
Otherwise, we advise you to do this Tour Du Mont Blanc with a guide.
What hiking gear should I bring to do the TMB?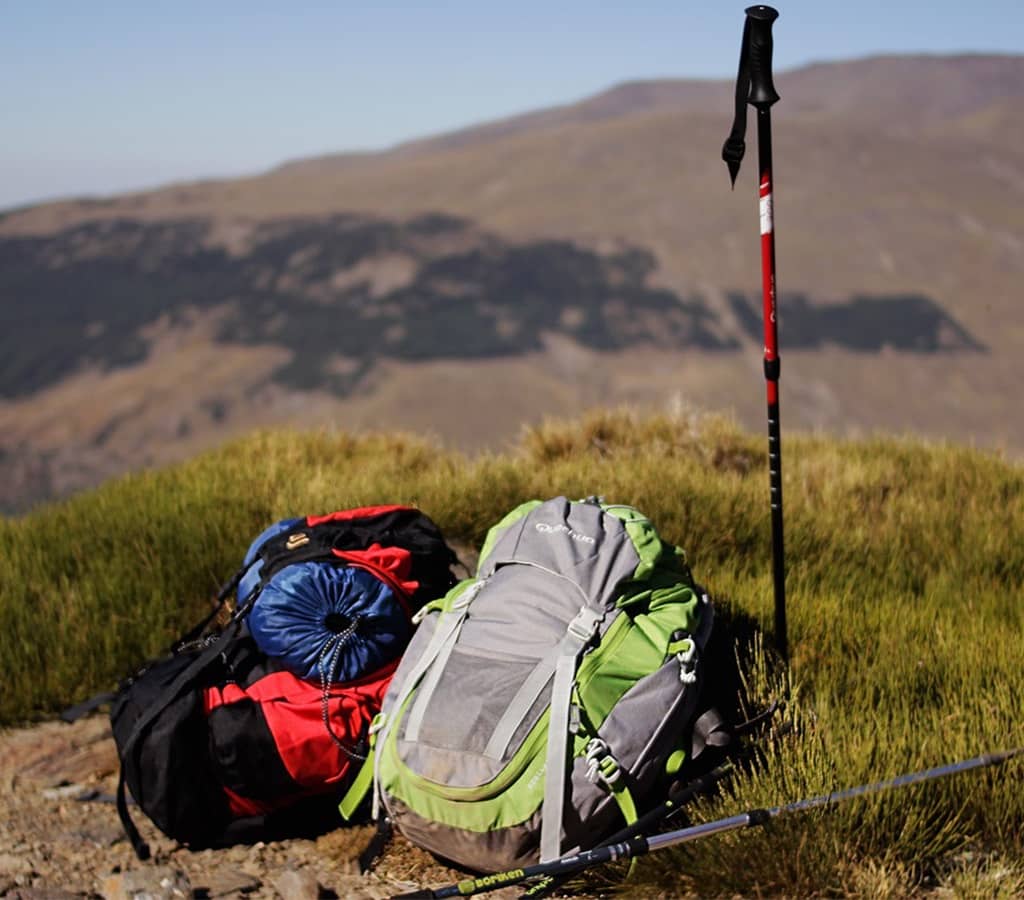 Trekking equipment
The trekking gear you need to take to do the Tour Du Mont Blanc in autumn is not much more important than what you would take if you were doing it in summer. If you plan to sleep in refuges on the Tour du Mont Blanc, you won't need to bring any specific additional equipment except for appropriate hiking clothes.
Be careful to prepare your departure. It is possible that some refuges close their doors in September. We therefore advise you to find out when they will be open and to book your nights before you leave for greater peace of mind.
If you are more of a backpacker, you still have the possibility to do the Tour Du Mont Blanc in bivouac, even during September and October. In addition to taking your tent with you, you will need equipment adapted to the temperatures you will encounter at night.
We therefore recommend that you take the following equipment with you for a trouble-free autonomous trek:
a sufficiently warm duvet so as not to feel cold at night. For optimal comfort, we advise you to take a bag with a comfort temperature of around 0 degrees.
A sufficiently insulating floor mat (with an R-Value of at least 3.5) to try to limit the humidity and cold of your bedding as much as possible.
a silk sheet, which allows you to gain a few more degrees, and will ensure that you spend your nights warm.
Hiking clothes
Even if the weather is generally still nice (and sometimes warm) in the Alps in September or October, temperatures can quickly drop in altitude. If this is not a problem to do the Tour Du Mont Blanc in autumn, it is still necessary to dress accordingly.
For the fall season, we recommend that you pack three layers of clothing, which will allow you to easily adapt to the climate you will encounter:
a light and breathable first layer: a synthetic fibre t-shirt like a sports t-shirt. Lightweight, it will allow you to feel comfortable during your long walking sessions.
a second, more insulating layer: to protect you from humidity. A fleece like those sold at Decathlon which are very efficient and reasonably priced.
a third, slightly thicker layer: this will protect you from the biting wind of the mountain pastures and from the rain. The waterproof jacket, although a little more cumbersome, can quickly become your best friend in case of bad weather.
This complementarity between the layers ensures great modularity according to the climate and temperatures and allows you to easily remove or add one of them.
If you are still afraid of being cold, we advise you to bring some extra clothes:
A merino wool t-shirt: known for its lightness, its breathability and its antibacterial properties (and therefore effective against bad odours), it will be a perfect ally in case of cool temperatures.
Gloves: especially for the morning and evening or in autumn.
A hat: it will allow you to protect your ears which also tend to suffer from the cold.
An extra insulating layer: like a soft-shell or micro-fleece for example, to be sure to counter the humidity and cold
Warm hiking socks: which, like the gloves and the hat, will protect your feet, which often tend to suffer from the cold in the mountains.
A tights: for the night to ensure additional insulation, and will allow you to be sure to sleep in the comfort of a warm environment.
To conclude our article, we must remember that no matter the season, doing the Tour Du Mont Blanc is an unforgettable experience. However, autumn offers some important advantages to start the adventure.
So, it's time! Choose your route, pack your backpack, and after carefully preparing your departure, embark on this incredible adventure, full of surprises 🙂