If you want to do the Tour du Mont Blanc but don't have two weeks of vacation to do it, you can do the Tour du Mont Blanc in 7 days. In fact, in only one week it is possible to do the Tour du Mont Blanc in a loop, thanks to some arrangements.
In 7 days you will have time to walk in 3 different countries, trek around one of the most iconic peaks in the Alps and see the best of the TMB landscape.
You will find here all our advices to do the Tour du Mont Blanc in seven days to live a week of trekking around the highest summit of Western Europe!
Tour du Mont Blanc in 7 days: the route
To do the Tour du Mont Blanc in 7 days, you follow the same route as for the full Tour du Mont Blanc from Les Houches, with two differences.
On the one hand you arrive in Argentière, in the commune of Chamonix-Mont-Blanc. From there you can take the train RERS004 to be in Chamonix in less than 20 minutes.
On the other hand you will take the bus between La Fouly and Champex to save time and avoid a long stage.
You can find all the routes to take by public transport on Google Maps, or on the official websites of the bus companies.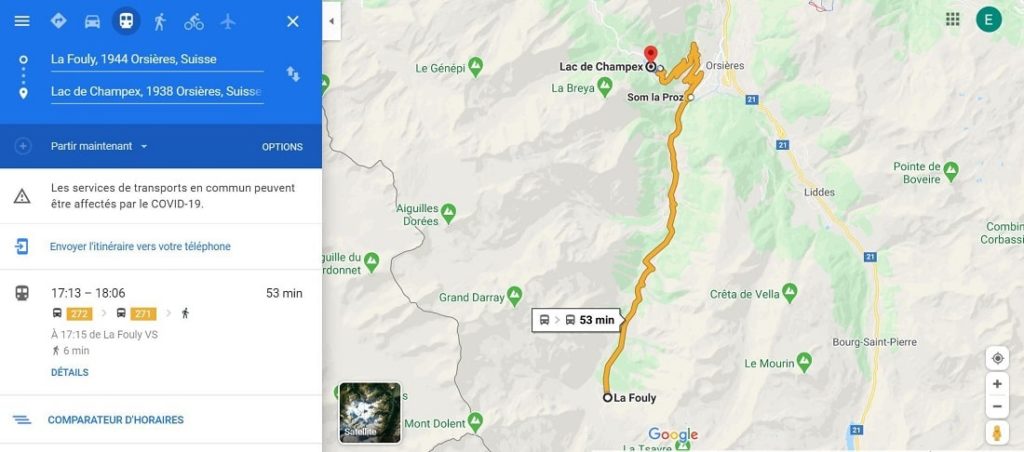 These two changes in the full TMB itinerary allow you to do the Tour du Mont Blanc in 7 days instead of 11.
The itinerary to do the Tour du Mont Blanc in 7 days
Thanks to the variants and the good network of shuttles and buses, the possibilities of itinerary to realize the TMB in a period of 7 days are multiple. Here is the one we suggest you discover during our organized and guided tours.
Itinerary of the Tour du Mont Blanc in 7 stages
Day 1: Les Houches – Les Contamines

6 hours of walking
D+ : 650 m
D- : 1300 m

Day 2: Les Contamines – Les Mottets

6 hours of walking
D+ : 1450 m
D- : 800 m

Day 3: Les Mottets – Maison Vieille

6 hours of walking
D+ : 1100 m
D- : 1050 m

Day 4: Maison Vieille – Refuge Bonatti

6 hours of walking
D+ : 1100 m
D- : 1000 m

Day 5: Bonatti Refuge – La Fouly

6 hours of walking
D+ : 900 m
D- : 1300 m

Day 6: La Fouly- Trient (transfer La Fouly – Champex)

6 hours of walking
D+ : 915 m
D- : 1260 m

Day 7: Trient – Argentière

6 hours of walking
D+ : 1000 m
D- : 850 m
Why do the Tour du Mont Blanc in 7 days?
Doing the Tour du Mont Blanc in 7 days allows you to do a TMB in a single week. If you are not yet retired or cannot take time off for a long period of time, this allows you to do the mythical TMB in one week!
Moreover, doing the Tour du Mont Blanc in 7 days on a well thought out and adapted route can allow you to select the best stages to see the most grandiose landscapes, and enjoy them all the more fully as you will be less tired.
Doing the Tour du Mont Blanc in 7 days allows you to be less tired than after a full TMB which is necessarily longer and more demanding for the body.
Moreover, the course is of moderate difficulty.
Indeed, you can count on about 6 hours of walking per day over 7 days. The average difference in altitude of 800 meters allows you to fully enjoy the landscape without suffering too much physically and to take breaks as you wish.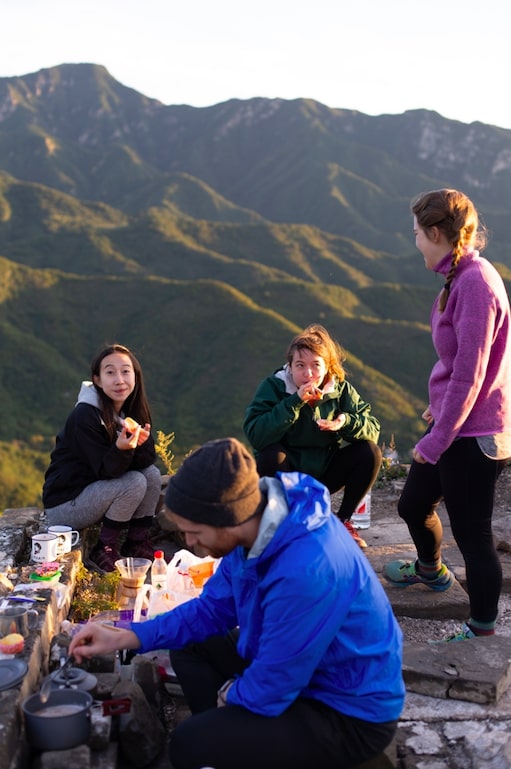 If doing the Tour du Mont Blanc in 7 days is a major physical effort, for which you can prepare yourself, the difficulty of the route, the total duration and the choice of routes rich in breathtaking landscapes and pleasant mountain huts or lodges make it a unique trek and rich in emotions.
You can even go through an agency to get even more out of your TMB.
The little extras of doing your Tour du Mont Blanc in 7 days with Watse Trekking Mont Blanc :
Your luggage will be transferred every day and you will only have to carry a small bag for the day.
Picnics and snacks are prepared by a chef and adapted to the hike.
The route taken is in the opposite direction to that chosen by the other agencies in order to cross and not follow or precede the other walkers.
Doing the TMB without a guide for a week
You can choose to do your 7 day Tour du Mont Blanc on your own or with the help of professionals.
Doing the Tour du Mont Blanc trek on your own after having organized it with an agency that designs your custom trip allows you to benefit from the assistance of an agency and professional guides.
You can be sure to have a route perfectly adapted to your desires, assisted by professionals who really know the Mont Blanc in depth.
With our agency, you will be able to co-organize with a guide your place of departure and arrival, adapt your transfers, the number of days of walking, the places where you want to spend, the type of accommodation where you want to sleep and eat, etc.
When everything is good for you, the guide who will be in charge of your trekking project will create a map and a road-book made to measure including two stages for each day (a classic one and a more sportive one, to be chosen according to your desires and your shape of the day) as well as all the necessary information.
During your trek, at the frequency you wish, the guide will call you to advise you and make sure that everything is going well.
Find out more here to do the Tour du Mont Blanc trek without a guide and organize it with our professionals!
How to prepare for a 7-day Tour du Mont Blanc?
Choose the best period to make your trek
The ideal season to hike the TMB is from mid-June to mid-September, when the huts are open.
However, there are distinct periods in the season.
Choose the end of June if you want to do the Tour du Mont Blanc during the flowering period. It is the ideal period for nature lovers.
However, it happens that at this period all the snow has not yet melted. So some passages can be more difficult at this time, like the Col des Fours or the Fenêtre d'Arpette which are often still covered in snow.
From mid-June to mid-August is the peak season and the trails are very busy. If you want to do the TMB during this period, it is interesting to take the route in the opposite direction to have more peace and quiet.
Mid-August to mid-September is the end of the season but the weather is still quite good, and the trails are much less crowded, making it the ideal time if you want a more leisurely, strolling TMB.
So choose the best week to do the Tour du Mont Blanc according to your preferences and desires. Once you have chosen your dates, you can look at how to get to the start of your TMB!
Which equipment to do the Tour du Mont Blanc in 7 days?
The hiking equipment
For your 7-day Tour du Mont Blanc, use your classic hiking equipment.
Backpack (with a suitable waterproof rain cover)
Walking sticks
Sunglasses
Sunscreen
Head cover
Gourd
Some tablets or filter to purify the water
Add to that a few "just in case" items that take up little space in the bag but cover your back in case of trouble.
A survival blanket
A whistle in case you get lost
A lighter even if you don't plan to light a fire
Map and/or topo guide with a compass to use it!
Finally, take what you need for your personal hygiene. While you may be tempted to take nothing to lighten your bag, keep in mind that mankind invented hygiene for a simple reason: to avoid infections, diseases and germs.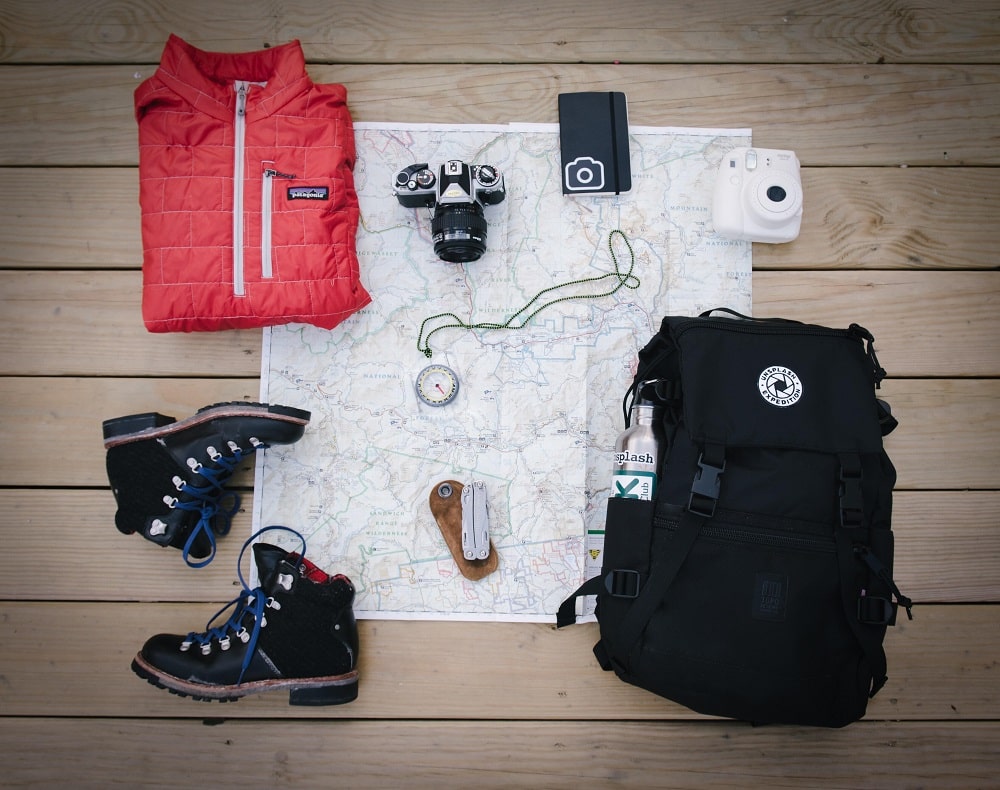 You will be exposed to it during your TMB, especially if you are going to bivouac. So take the necessary measures to maintain a decent hygiene and do the Tour du Mont Blanc in 7 days in all serenity.
A microfiber towel (Decathlon offers them at very affordable prices and they are very compact so they don't take up too much space in the bag)
Toothbrush and toothpaste for 7 days (morning and evening)
A little hydroalcoholic gel to wash your hands quickly on the Tour.
Marseille soap. You can even grate it and put it in an airtight bag to take only what you need. It will allow you to wash your body, but also to do the dishes and laundry, or to clean a wound.
Mountain clothing
Get ready to do your 7 day Tour du Mont Blanc. Take the right clothes and shoes. Find here the essentials:
Breathable T-shirts
A fleece
A waterproof jacket
A pair of hiking pants
Hiking shoes
Hiking socks
A down jacket
Gloves
For the top, adopt the 3-layer technique to wick away perspiration while keeping you warm. This system also allows you to easily adapt to your feeling by adding or removing a layer while walking.
The first layer with your breathable t-shirt allows you to evacuate perspiration. The second layer with the fleece keeps you warm and the last layer with the waterproof jacket and/or down jacket protects you from wind and rain.
Doing the TMB in a week: practical information
To come and go
Depending on where you are coming from to do your Tour du Mont Blanc, you will need different modes of transport.
If you plan to come by plane, the closest airport to the departure and arrival of your TMB will be Geneva. It is 90 km from Chamonix, which you can reach from Geneva by train, bus or car.
You can also land at Lyon airport if you can find a better flight for you. It is 220km from Chamonix but you can take the train to Chamonix via Bellegarde Sur Valserine.
You can also take the train directly to Chamonix, and there are also numerous bus routes from most of France's major cities.
From Chamonix you can reach your starting point by bus, taxi or shuttle. A very dense network of public transport and taxis covers the area to meet the demand of hikers who are doing the Tour du Mont Blanc.
Sleeping well before, during and after the Tour du Mont Blanc
For before and after:
In Chamonix as well as in Les Houches, you can find comfortable hotels and gites to rest before or after your TMB. Find here our favorites, tested and approved by us and our clients!
In Chamonix:
Hotel la Croix Blanche at 81 Rue Joseph Vallot
The Gîte le Chamoniard Volant at 45 Route de la Frasse
The Hotel Les Lanchers at 1459 Route des Praz
The Gîte le Moulin à Montroc at 32 Chemin du Moulin des Frasserands
In Les Houches :
The Hotel les Mélèzes at 333 Rue de l'Essert
The Gîte Michel Fagot at 2 Allée des Sorbiers
During the Tour du Mont Blanc :
On this tour you can find very comfortable refuges, hostels and lodges. If you don't go through an agency, then remember to book well in advance, some huts are fully booked for the season as early as April.
Even from February onwards, some nights in July and August are already fully booked, so go through an agency or plan your TMB well in advance!
If you decide to go through an agency like Watse Trekking Mont Blanc, we will take care of the booking of the gites.
You can also take the comfort option for an extra 100 euros which allows you to sleep in private double rooms, rather than in a dormitory, for a comfortable 7 day Tour of Mont Blanc!
To know more about it, discover our article dedicated to the refuges on the Tour du Mont Blanc.
---
Ready to do the Tour du Mont Blanc in 7 days?
If you have a question about the TMB, feel free to leave a comment or send us a message, we will be happy to discuss the subject with you.