With the arrival of summer and the health crisis that seems to give us some respite, you will surely want to go hiking around your home to finally enjoy the fresh air and the mountains, for a day or several days. You may even be planning your future trek on the Tour du Mont Blanc for the fall. So it's time to get back in the saddle and put on your hiking boots!
Going on a day hike is an opportunity to get back into the swing of things without pressure, and why not with the whole family depending on the difficulty of the chosen route.
In this article, we indicate you all the equipment necessary for a day hike in summer in order not to forget anything to walk with a serene spirit.
Hiking clothes for summer
For hiking in summer, the three-layer technique applies just like in winter!
For the first layer, avoid cotton, in which you will tend to sweat, and favour a breathable t-shirt made of synthetic material. You will probably be warm enough to spend most of the day in this simple t-shirt. However, temperatures and weather can change quickly in the mountains, even in summer.
That's why we recommend that you take a small fleece or a light down jacket with you to keep you warm.
Don't forget the third layer which will be essential if it rains or is windy: a waterproof "Gore-Tex" type windbreaker.
As for the bottom, go with light hiking pants and bring shorts if it's a bit warmer. There are modular pants that easily convert to shorts like this model. Choose breathable hiking socks for more comfort.
Finally, even if it's a summer hike, a neck warmer and gloves can be particularly useful early in the morning.
Hiking shoes for summer
On a mid-mountain hike in summer, you will probably encounter little or no snow on your way. You can leave crampons and ice axes in the closet and go light if you don't have to cross snow at altitude.
For a day trip, opt for a pair of light hiking boots. You can walk in low hiking boots if the terrain is not too rough. This is not a trek and your pack should be lighter than in winter so you will feel more free with this type of shoes.
However, if you're going on a long hike or off-trail, you'll want to wear high-top mountain boots. Your ankles will thank you!
For more details, see our guide to choosing hiking boots.
The backpack for a day hike
Once again, the watchword is lightness! For a summer hike without a bivouac, a small backpack of 20L to 25L will be more than enough to carry a jacket, water bottle, snacks and first aid kit. If you are one of those who like to run downhill in trail mode, a backpack with a water pocket can allow you to hydrate without stopping.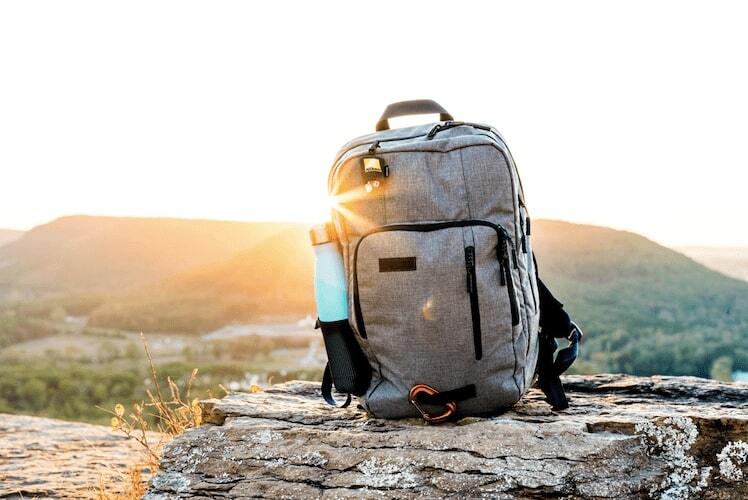 How to protect yourself from the sun when hiking?
Among the summer mountain essentials are, depending on your taste, a cap, a hat or a bob that will protect you from sunstroke while hiking. In summer, the sun can be particularly strong and it is essential that you protect yourself.
Applying SPF 50 sunscreen to all parts of your body exposed to the sun will also prevent you from having a bad memory of this getaway.
Finally, sunglasses adapted to mountain hiking (protection factor 3 or 4) will provide you with a certain comfort throughout the day.
Hydrate and regain strength
As you already know, a hike takes energy! Especially if you walk for several days in a row as during a trek like the Tour du Mont Blanc. So in addition to your lunch, keep cereal bars, dried fruit and fruit jellies handy in your bag to give you extra energy during your breaks.
You should also bring enough water to last the whole day. Before leaving, check if there are any drinking water points (refuges, springs, hamlets) on your route. Also take a way to purify it if necessary!
In any case, it is always better to plan with a little more water than expected because the mountain is unpredictable.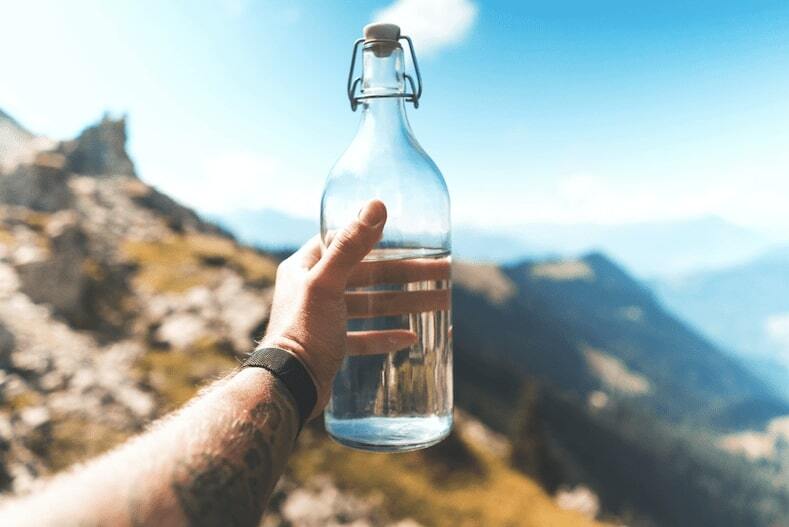 Summer hiking equipment
First of all, if you come across lakes on your route and you are not cold, you can take something to soak in. They will be cool but very pleasant in summer, after several hours of walking! A swimsuit and a microfiber towel take up little space and can make for a great time!
Then, if you want to take some of the strain off your back and knees, setting off with walking sticks will take the strain off your back and joints.
Also, to avoid getting lost, always carry a compass and an IGN map in your backpack. You can also refer to very good hiking apps like Whympr where you can save your route and refer to it easily and quickly.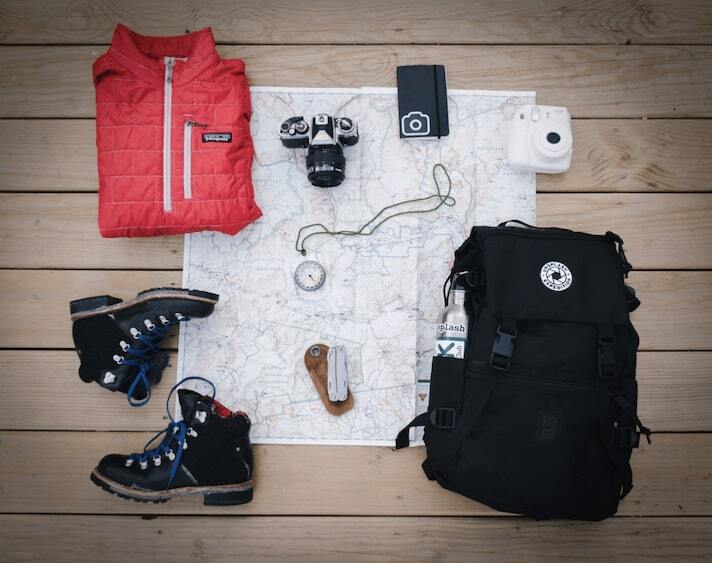 Finally, even if it's a summer day hike, never be too careful. Go with :
Your charged phone and a spare battery
A first aid kit
A Swiss Army knife
A headlamp, a survival blanket and a whistle in case you are surprised by the night
Toilet paper and/or tissues
A garbage bag so that no waste is left behind.
Don't forget the return at home
You have just finished your hike and arrive at your car and there: "But where are the keys? This has happened to many of us, often the most dazed and hurried to go hiking, and it can be a bit annoying.
So as soon as you leave, carefully put your keys in a specific pocket. It's a small detail that will allow you to finish the day well.
Finally, leave a change of clothes, socks and shoes in your car, as you will have sweated and will be more comfortable on the way back.
You are now ready to spend a beautiful summer day hiking in the mountains!
For more information, see our list of trekking equipment.