Sébastien and Pierrick are the two guides of our agency Watse Trekking Mont Blanc. Sébastien, originally from the Vosges, fell in love with the region and will soon complete his 100th Tour du Mont Blanc! The second is from a small village in Haute-Savoie located at the foot of Mont Blanc and accompanies walkers on trails all over the world (Nepal, Peru, Cape Verde, Norway, Romania …).
From mid-June to mid-September, they are the ones who organize and accompany the hikers who come to us on the paths of the Tour du Mont Blanc. If you choose to make a trek in the Mont Blanc region entirely to measure, they will also imagine your itinerary.
In this article, Pierrick and Sébastien answer 10 questions we are often asked about the Tour du Mont Blanc.
How long does it take to do the Tour du Mont Blanc?
Sebastian:
The Tour du Mont Blanc is a loop trek that includes 10 or 11 stages in its entirety, depending on the itinerary chosen. When we conceived our full Tour du Mont Blanc, we chose to program it over 11 days in order to take our time, not to skip anything and to offer a change of scenery.
Can we do the Tour du Mont Blanc in 7 days?
Pierrick:
It is quite possible to do the Tour du Mont Blanc in 7 days if you have less time. For example, we offer a Tour du Mont Blanc via the Haute Route, which is more alpine and wild than the classic loop and can be done in seven days. It's a fantastic route that crosses glaciers!
For those who wish to do a less mountainous trek, we will very soon create a 7 day Tour du Mont Blanc which includes a bus transfer and goes through our selection of the most beautiful spots and stages. It will be a condensed version of the best of the 7 day Tour du Mont Blanc.
Is the Tour du Mont Blanc a difficult trek?
P :
Among the trekking itineraries, the Tour du Mont Blanc is not a particularly difficult circuit because it does not include any technical passage on the trail and the daily vertical drops are not insurmountable. Moreover, the trails are well marked and for most of the time easy to ride, even if some passages are steep or rocky. Finally, we stay at modest altitudes where there is no risk related to the lack of oxygen, unlike other higher routes. We usually say that the Tour du Mont Blanc is of an average level.
S :
Indeed, the Tour du Mont Blanc is a trek accessible to many walkers, even those who do not have much experience of trekking. However, we would like to remind you that it is a multi-day trek in a mountain environment. The Tour du Mont Blanc is still a very beautiful hike of about 170 kilometers and 10,000 meters of ascent! We therefore advise you to undertake it only if you are in good physical health. Also, there is not "ONE" Tour du Mont Blanc but many. It is therefore important to trust professionals to guide you to the most suitable route for your level. At Watse, for example, we have designed a 4-day trek that is very suitable for families or people who want to discover roaming.
What is the best time to do the Tour du Mont Blanc?
S :
The best season to do the Tour du Mont Blanc is from mid-June to mid-September. This is when the refuges are open. From June 15th onwards, the days are long and the weather is perfect for hiking. The flowering is intense in the Mont Blanc region. The end of June is the period I recommend to nature lovers! However, the presence of late snow can make it tricky to traverse certain parts of the route, such as the Fenêtre d'Arpette or the Col des Fours, for example.
From mid-July to mid-August, the Tour du Mont Blanc is busier. That's why we take as many of the lesser-known variants as possible, and why we leave at different times than the other groups. We have also decided, guided by our experience, to do our Tour du Mont Blanc counter-clockwise: in our opinion, the difficulties are better tackled and moreover, we cross the groups, we do not follow them!
At the end of August and until mid-September, the weather is always very good for doing the Tour du Mont Blanc and the route is much less crowded. The atmosphere is quieter and perfect for a strolling TMB.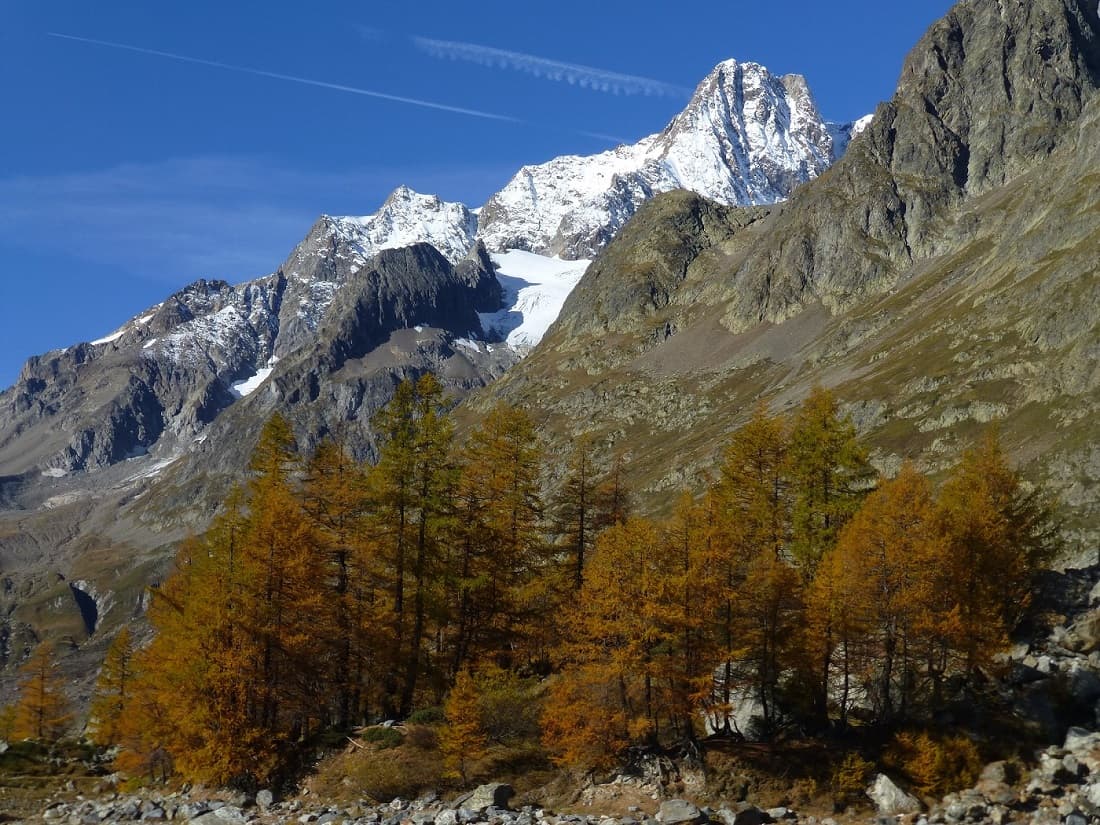 Is it possible to bivouac on the TMB route?
P :
This is a question that is often asked by people who come to us to organise their Tour du Mont Blanc in autonomy. Bivouacking is highly regulated in the three countries that the Tour du Mont Blanc route crosses. In France, it is tolerated as long as it is more than one hour away from any motorized access. The tent may not be pitched before 7pm and must be dismantled by 7am. In Valle d'Aosta, on the Italian side, you can only bivouac above 2500 meters, which requires careful planning and adequate equipment. In Switzerland, bivouacking is forbidden. Either you will have to sleep in a refuge, or you will have to stop in a guarded campsite.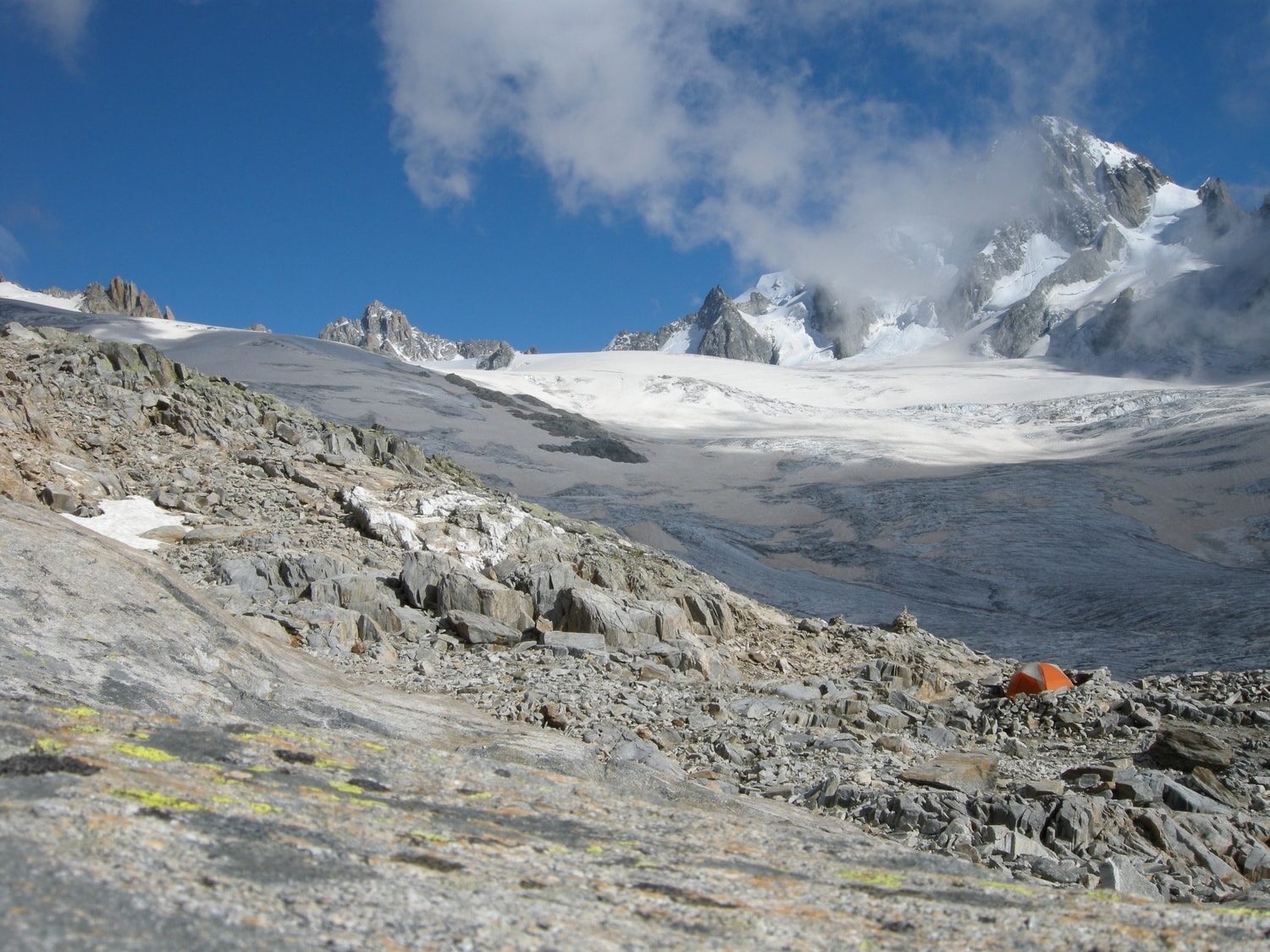 Why go through a trekking agency to do the Tour du Mont Blanc?
P :
You don't have to go through a trekking agency to do the Tour du Mont Blanc. It is a trek that you can very well organize and realize by your own means.
There are however several advantages to undertake the TMB with a guide in my opinion. First of all, the agency takes care of a large part of the logistics and organisation: booking of the huts, luggage transfers at each stage, preparation of picnics, etc. Moreover, you will be accompanied by a qualified and experienced mountain guide who will ensure your safety and who knows the way perfectly to avoid getting lost and to open the doors of discovery to you. He is also a person who knows the history, traditions, fauna and flora of the region. He will therefore be an interesting travel companion. More than a companion, he is a coordinator because his role is to put at ease each member of the group he guides and to encourage sharing and meeting. Finally, a trekking agency like Watse, only composed of trekking guides, will be able to advise you on the ideal itinerary according to your level and your desires.
How can I get to the start of the Tour du Mont Blanc?
S :
There are several possible departures depending on the itinerary chosen but Chamonix remains the most frequent departure town. To get to Chamonix, the departure town near Les Houches, you can choose to travel by train, bus, car or plane.
By train, you just need to buy a ticket for the Chamonix Mont Blanc station. By car, you can park in the car park of the Flégère cable car, in the car park of your hotel if it allows it or in one of the guarded car parks of the town. Flixbus and Ouibus also serve Chamonix and offer direct trips from Paris and several French cities. Finally, you can come by plane by landing at Geneva airport or at Chambéry airport, both located 90 kilometers from Chamonix.
What documents can I use to prepare for the Tour du Mont Blanc?
S :
To prepare your Tour du Mont Blanc, we advise you to get the FFR Tour du Mont Blanc topo-guide. It details the entire route in great detail and contains all the necessary practical information. You can also learn more about the history and traditions of the Mont Blanc region.
These two TOP 25 maps will help you to visualize every detail of the Tour du Mont Blanc route:
You can also see the trails of the Tour du Mont Blanc and its variants on the IGN website, Geoportail.fr.
P :
If you organize your free Tour du Mont Blanc with our agency, we provide you with the maps with your itinerary and the commented topo-guide for each of your stages. We also provide a detailed road-book of your itinerary describing two options for each day of walking (one easy and one more difficult) which we elaborate on the basis of your wishes and our dialogue before the preparation.
Can we do the Tour du Mont Blanc with children?
S :
It is possible to do the Tour du Mont Blanc with children, although it is important to bear in mind that a trek of this scale requires specific supervision under a certain age. This is why we only offer to accompany children on the TMB as part of a tailor-made TMB.
As far as the minimum age is concerned, we strongly advise against going with children under 10 years old. It is at this age that the motor skills and muscular endurance are sufficiently developed to do a Tour du Mont Blanc. Children should have some experience of mountain walking. In addition, it will be necessary to plan suitable stages and accommodation.
What is the Haute Route?
P :
The Haute Route is an original itinerary that goes around the Mont Blanc by more alpine and wild paths than the classic way. It is our favourite, the result of our great knowledge of this massif! It doesn't only go around the Mont Blanc massif, but also crosses glaciers! The Tour du Mont Blanc by the high route passes through some major passes and allows you to spend nights in mountain huts with a unique atmosphere. The views of Mont Blanc from this route are unforgettable.
There is not only one route of the Haute Route but several. Finally, the Tour du Mont Blanc by the Haute Route is not to be confused with the Haute Route, another trekking itinerary between Chamonix and Zermatt, two high places of alpinism.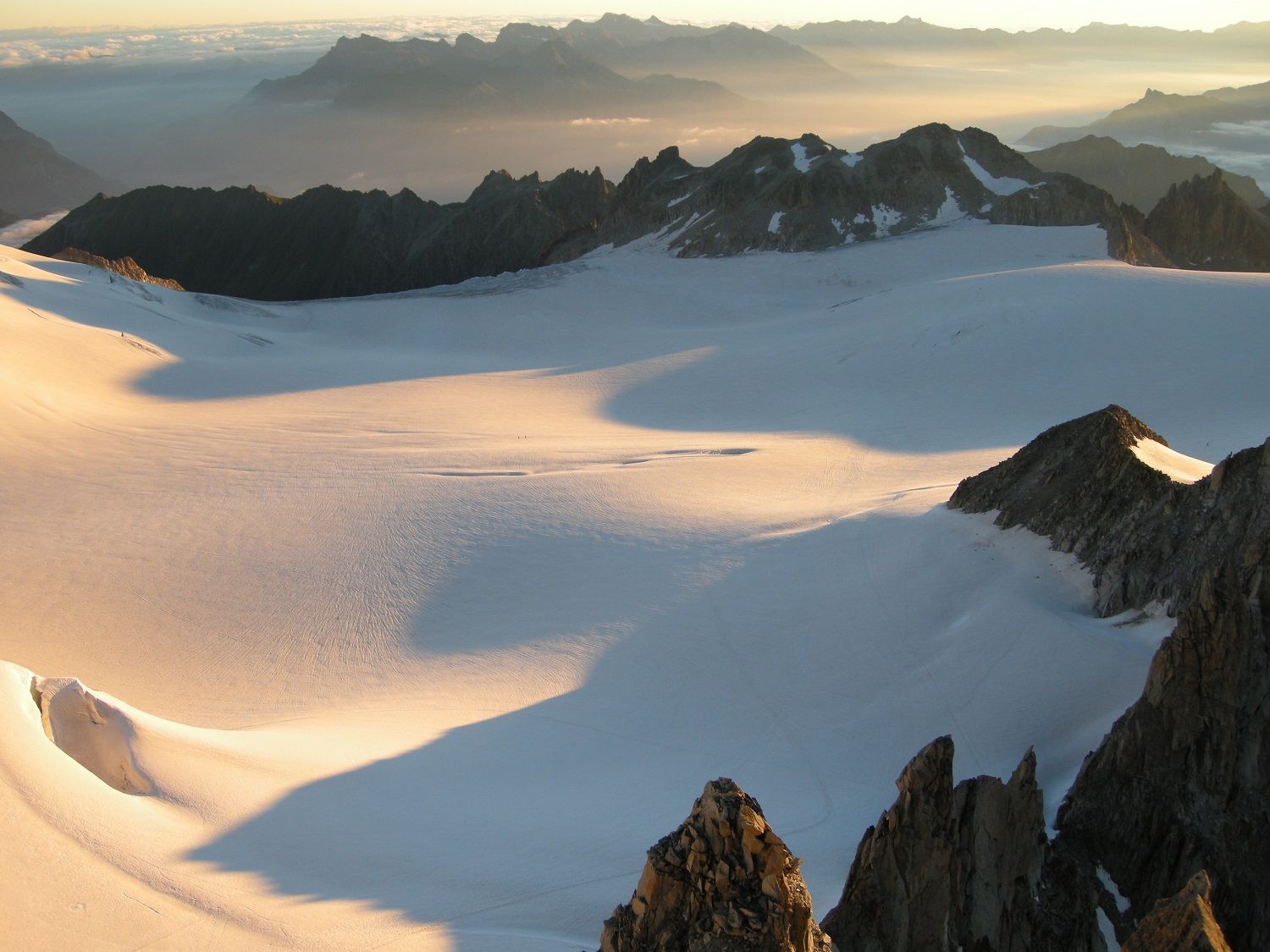 ---
We hope that this interview with Pierrick and Sébastien has given you the answers to any questions you may have about the Tour du Mont Blanc! If you still have questions, please contact us by clicking here. We will be delighted to discuss with you!