Whether you hike occasionally or plan to hike the tour Mont Blanc, a good hiking backpack will be your indispensable companion in the mountains.
But choosing it before you leave is another matter.
The duration and type of trip you plan to take will determine the choice of your future hiking backpack.
From a day hike to a multi-day trek, your needs will vary considerably. Likewise, if you plan to hike independently or with stops in a refuge, you will not need the same type of backpack.
From the size of the bag to its practicality or comfort, we will help you to make the tour of all the important parameters to consider to choose the best hiking backpack!
The best size for a hiking backpack: not too big, not too small
If you take a bag that is too big, you risk filling it up too much and getting unnecessarily loaded. Having one that is too small means having to choose between a tent and a duvet, which is not a very good idea. You should choose a hiking bag with a volume adapted to your needs!
For an easy hike of a few hours take a small hiking bag of 10 to 30 liters. This will be enough to bring water, jacket and snacks.
For a day hike in the mountains, choose a 20 to 40 litre hiking bag. This one can contain :
water
picnic
snack
some clothes to cover yourself
a camera
something to protect you from the sun.
Take a slightly larger bag if you have to carry your children's things as well. If they are carrying their bag, be aware that these little hikers should not carry more than 10 to 15% of their weight!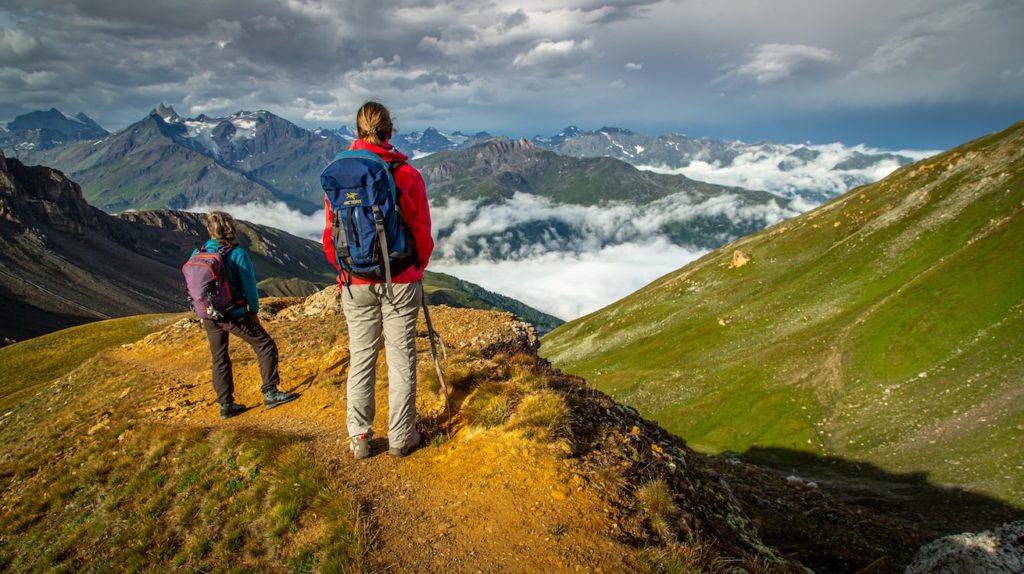 In trail or fast hiking mode, a bag of 20 liters maximum will be enough for you not to slow down while having at hand water, snacks, light jacket and small first aid kit.
Finally, if you are going on a multi-day trek, such as the Tour of Mont Blanc in autonomy, you will need a much larger hiking bag. Get a bag of at least 50 litres if you are going to be totally autonomous and have to carry a tent, sleeping bag, meals, stove, mattress and warm clothes.
The search for comfort in a hiking backpack
The comfort of a hiking pack can completely change your mountain experience, for better or for worse.
To begin with, choose a hiking backpack that is as light as you can carry! It is often said that the total weight of your bag should not exceed 25% of your body weight to preserve your back as much as possible.
In addition, make sure you find a backpack that fits your body type as well as possible. There are very often models for men and women adapted to the morphology and particularly to the chest and hips.
You will usually find three other types of straps that will enhance your comfort:
The belly straps guarantee your balance while ensuring a good distribution of the load. The waist belt is an important part of a hiking backpack because it takes the weight off your shoulders and back and places it more on your hips.
The straps at the chest level keep the straps in place.
The shoulder straps keep the load in place and prevent the weight of your backpack from pulling you back.
The last important point concerning the comfort of a hiking bag is the frame and ventilation .You can choose between a stretched net frame or a frame with padded foam.
The first one is relatively light and allows to have the back perfectly ventilated because it is not in direct contact with the bag. Very comfortable, this type of frame is great for short hikes in the summer as it evacuates humidity very well but it has its limits with too much weight in the backpack.
That's why the frame with padded foam is the preferred choice for long-distance hikers. With the airy foam padding all over the back, you can carry heavier loads with less difficulty.
Choosing a practical hiking bag
It's better not to spend 10 minutes looking for your hat at the bottom of your hiking bag without having taken everything out.
Because yes, a hiking backpack can be more or less practical. It all depends on how you like to organize yourself and the equipment you need to carry.
You'll have a choice between center or side zipper openings that allow you to quickly access your entire bag, and a classic top opening that will require you to rummage around a bit longer if the bag is large.
Some hiking backpacks have several interior compartments which are useful if you want to separate your clean clothes from your stove for example.
If you like to always have your camera at hand for perfect hiking photos, get a backpack with external mesh pockets.
Finally, if you plan to carry heavy equipment such as snowshoes, crampons, or an ice axe and rope, make sure the bag has external ties and straps that will also serve to tighten your hiking backpack to make it more compact.
If you prefer not to stop to hydrate, look for a backpack with a water pouch.
Waterproofing of a hiking bag
In any season, your hiking backpack will be confronted with humidity: morning dew in bivouac in summer and snow showers in winter.
Choose a bag with a water-repellent fabric – that is to say, one that is slightly waterproof – to avoid finding the contents of your bag wet.
The best thing to do is to make sure that your hiking backpack has a built-in rain cover or to buy one separately.
Get a robust hiking bag
In order to find a sturdy hiking backpack that will last you for many years, start by checking the warranty offered by the brand. This can give you a first clue as to the sturdiness of the bag.
Indeed, some brands offer very attractive lifetime warranties with the possibility of repairing your hiking bag and replacing parts whenever possible. However, be sure to read between the lines to always respect these warranty conditions.
In addition, most hiking backpacks are tested for sun resistance, weight, and tear resistance to determine if they will stand the test of time. We can only advise you to go for reference brands and not online shops with low prices that will not offer the same level of quality at all.
Finally, the best test is yours. Do not hesitate to go directly to the store. A simple glance and a handhold will already give you a good idea of the quality of the materials used.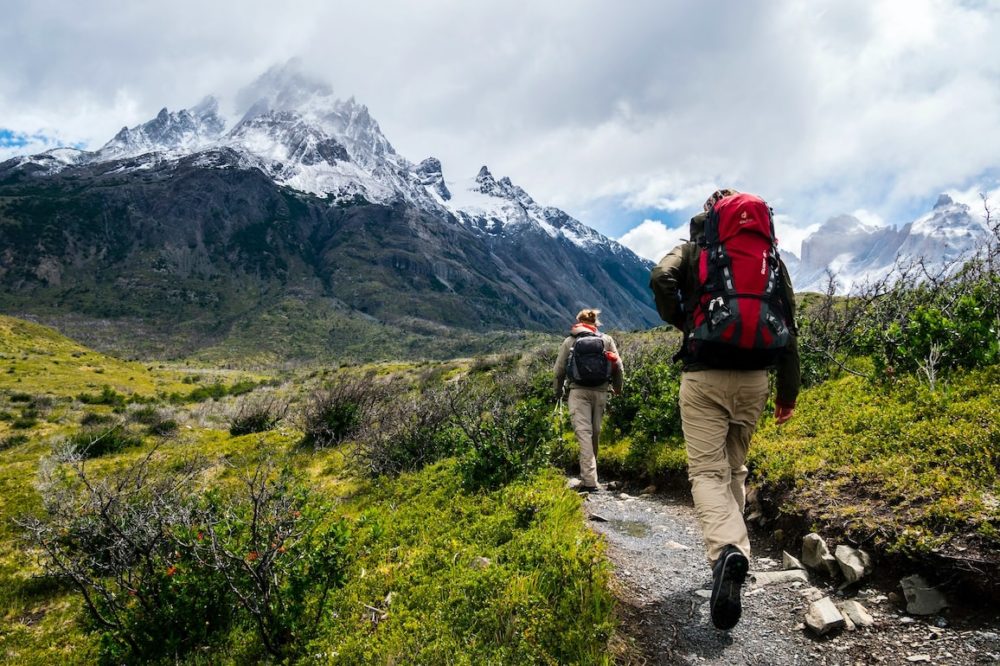 The references in hiking backpacks
In order to choose the best hiking backpack, turn first to the reference brands in the fields of outdoor, hiking and trekking.
The brands Osprey, Millet, Deuter, Gregory, Lowe Alpine or Ferrino will offer you backpacks perfectly designed for hiking and trekking. These are the best values that most hikers prefer.
However, their rather technical products will not always fit all budgets.
If you are more of a beginner in hiking or if you don't want a backpack that is too technical right away, you can go for the Decathlon brands, which offer hiking bags at a very good price-quality ratio.
But the best way to choose a hiking backpack that suits you perfectly is to test it!
Take the time to try out the hiking bag of your friend who has been recommending it for so long. Go to a specialized store like Au Vieux Campeur and ask the salespeople for advice. Load the bag as if you were going hiking and adjust all the straps to your size.
Keep in mind that there is no best backpack for hiking, it is your personal feeling and comfort that counts!